Vibration and Noise Monitoring Station
SV 258 PRO
The vibration and noise monitoring station SV258 PRO is dedicated to building vibration measurements that use methods based on Peak Particle Velocity and Dominant Frequency. The measurement of human vibration exposure in buildings is possible as the program allows simultaneous measurement of velocity and acceleration of vibrations with two independent steps of recording. In addition, it is possible to enrich the measurement with noise monitoring measurement data.
Users can use predefined settings compatible with commonly used standards such as DIN 4150-3 or BS 7385-2 or configure a criterion curve based on FFT or 1/3 Octave analysis by local standards. The 1/3 octave method is also used for vibration measurements of sensitive equipment with VC curves.
Vibration and noise monitoring system
Vibration and noise monitoring with SV258 PRO is controlled remotely with a 4G modem that transmits measurement data to the SvanNET server where the user has access to current data, files with historical data and can also generate a measurement report. The system generates SMS and Email notifications as well as visual and audible alarms (optional alarm lamp). In addition to simple triggers from PPV or LEQ values, you can configure alarms from standard curves (e.g. DIN 4150-3) or custom curves based on FFT or 1/3 octaves for sensitive equipment. It is possible to move the criterion curve up or down the scale so that the alarm is generated earlier or later. The time and value of the alarm are saved together to the memory of the meter.
The vibration time history in the form of WAV is stored for all three channels and is used for the verification of vibration sources. An accurate post-analysis of the frequency content of the signal is available in the SvanPC ++ program.

Building Vibration


Environmental Monitoring


DIN 4150-3 Standard
Vibration and sound monitoring
Equipment

Vibration and noise analysis
PPV, Dominant Frequency, PPV Vector Sum, VDV, FFT, 1/3 Octave
The choice of building vibration standard and the type of building (curve) enables the vibration velocity measurements according to commonly used standards such as DIN 4150-3 or BS 7385-2 that use Peak Particle Velocity and the Dominant Frequency method. Peak Particle Velocity (PPV), PPV Vector Sum, and Vibration Dose Value (VDV) are measured simultaneously in three axes. The time-history logging of vibration velocity results (PPV) and acceleration (VDV) is performed simultaneously. If you can't find the vibration standard on the list of implemented ones, you can always input customized values to create a criterion curve based on FFT or 1/3 octave (RMS, PEAK, or MAX). All these amazing features are included!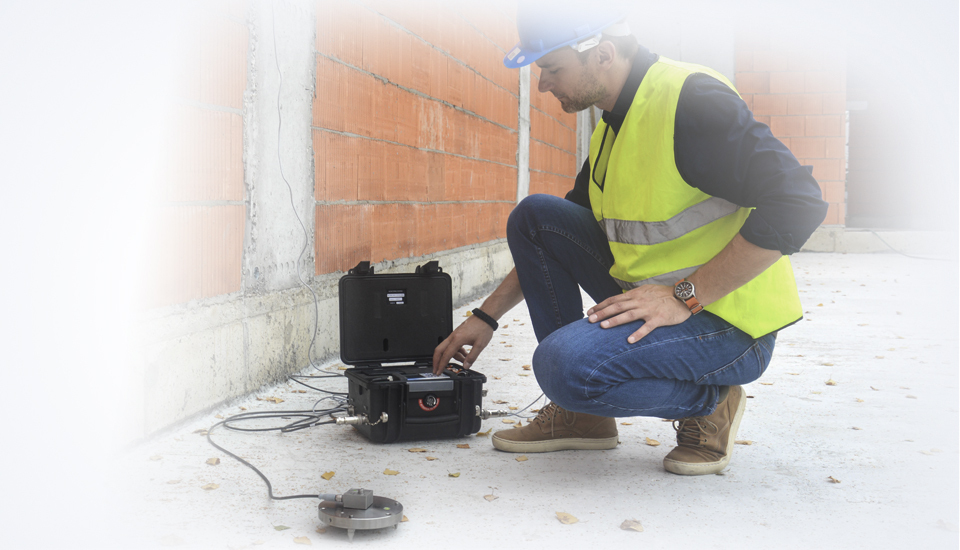 Alarms and Events
SMS and email, beacon lamps, or buzzer alarms
The system generates SMS and e-mail notifications as well as visual and audio alarms when excessive vibration is detected. In addition to simple triggers from PPV or LEQ values, you can configure alarms from standard curves (e.g. DIN 4150-3) or custom curves based on FFT or 1/3 octaves. The triggering of an alarm starts the event, whose length is configurable. After the event time has elapsed, the instrument starts analyzing the data and indicates the highest PPV value and its dominant frequency. The time and value of the event are saved in the meter's memory. All triggering is done by the instrument firmware, limiting the risk of a lack of alarms due to a bad connection with a cloud service.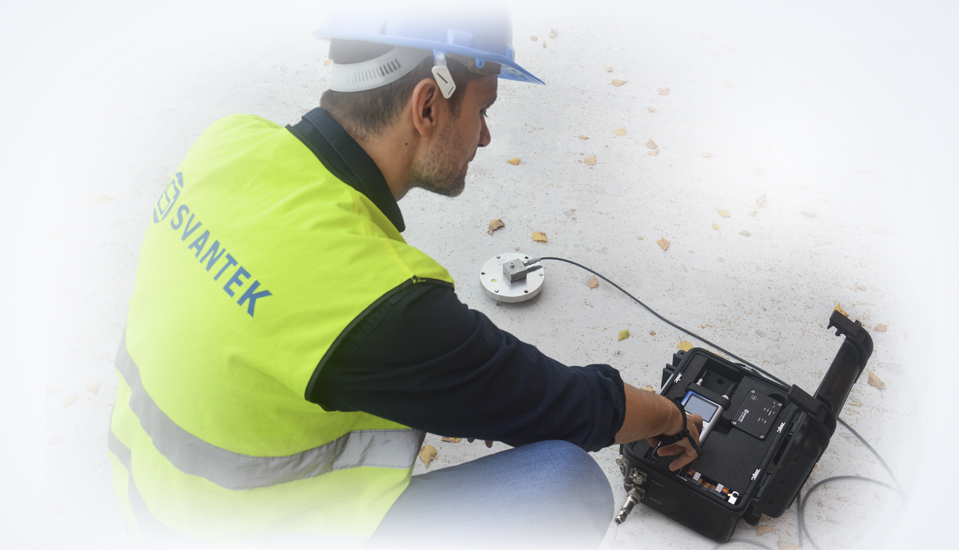 Sound and vibration
Simultaneous vibrations and class 1 noise monitoring
The SV258PRO Monitoring Station uses 4 channels: 3 for measurement of vibration velocity and acceleration and the fourth to measure sound in accordance with the requirements of IEC 61672 Class 1. The results (e.g., LEQ, MAX, MIN, or PEAK) are recorded together with the vibration velocity and acceleration steps, making the correlation of sound and vibrations much easier. The system uses a ROLLING LEQ or interval LEQ for ALARM and EVENT triggering!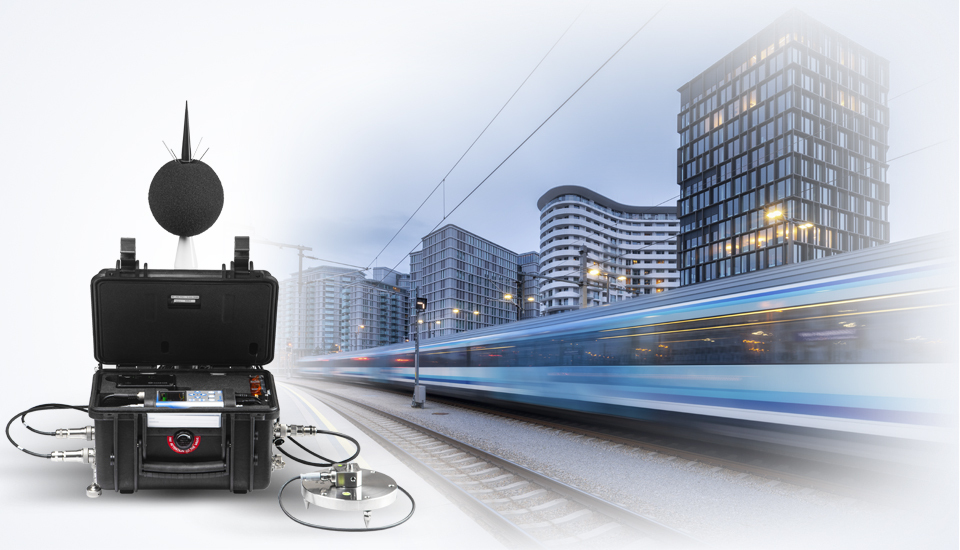 Whole body vibration measurements
Measurement of human vibration exposure in buildings by ISO 2631-1, BS 6472, and DIN 4150-2
The station allows simultaneous measurement of vibration acceleration, allowing the measurement of VDV with a different recording step than PPV, making the reporting much easier. The analyzer has built-in weighing filters according to ISO 2631-1 and ISO 2631-2 as well as DIN 4150-2. It is also possible to measure the impact of vibration exposure using a 1/3 octave spectrum.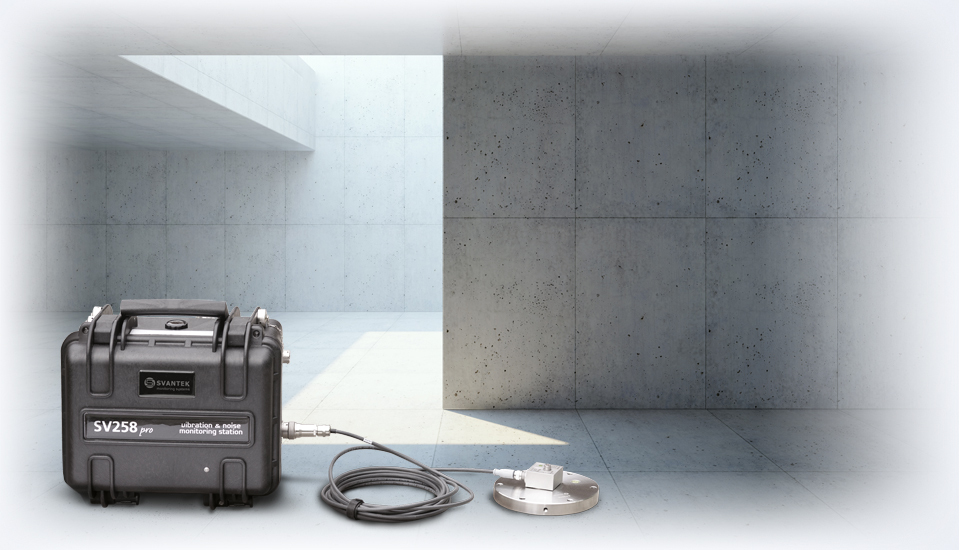 Portable monitoring system
A waterproof case dedicated to outdoor measurements
Military standard connectors provide reliable, robust, and waterproof cable connections. The station is ready for direct connection of a solar panel and can be powered by an internal battery or an outdoor DC power supply. The power is managed by the intelligent charging unit. The low-noise, hermetically sealed tri-axial piezoelectric accelerometer enables outdoor use without additional enclosures.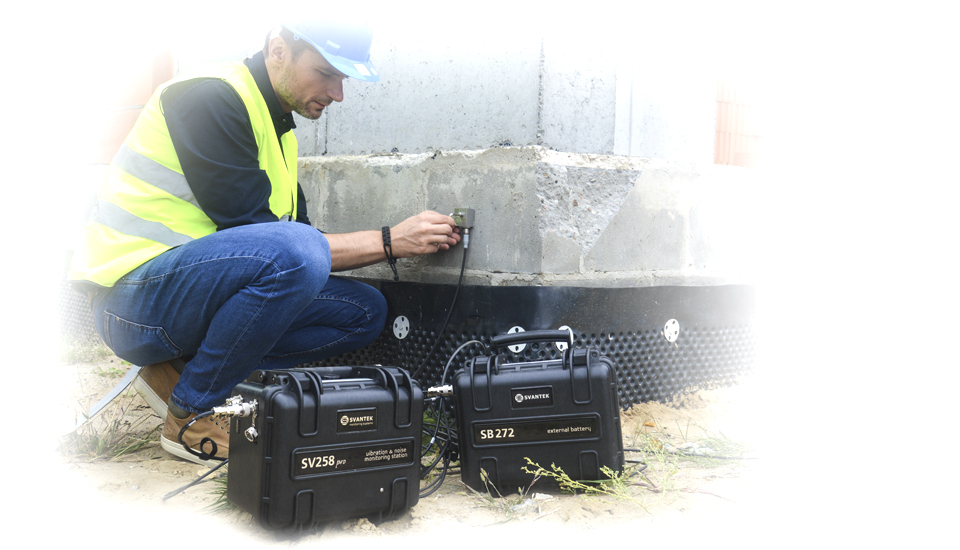 Vibration and noise measurement
Applications

Building and ground vibrations
Vibration velocity and acceleration
SV 258 PRO measures triaxial velocity and acceleration vibration levels in parallel and calculates peak particle velocity and vibration dose value simultaneously. In addition to logging overall values and frequency spectra, the time domain signal is stored for post-processing purposes. SvanNET enables a plug-and-play connection to the Internet and easy management of measurement projects. Regardless of the SIM card type, and public or private IP numbers, SvanNET will establish a connection, giving full access to the measurement data via WEB BROWSER. FFT is used for dominant frequency determination according to BS and DIN standards. Alternatively, the RMS or PEAK velocity spectrum in 1/3 octave bands can be used for comparison with user curves.
Read more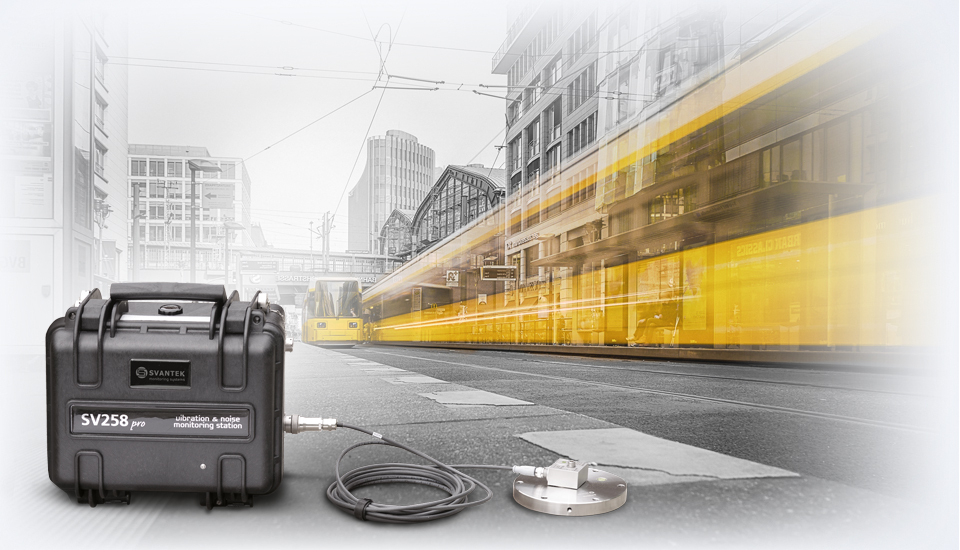 Sound and vibration monitoring
Videos
Measurements of ground and building vibrations
See how the SV 258PRO can handle simultaneous vibration and noise monitoring in the vicinity of the construction project.
Building vibration monitoring
SVANTEK offers a complete system for construction project vibration monitoring.
Vibration monitoring station
See what the hardware of SV 258 PRO looks like
Configuration of vibration measurement
Demonstration of the software capabilities dedicated to environmental vibration levels measurements
SV 258PRO Overview
Discover the most important features of a unique station for measuring construction project ground and building vibration levels.
Vibration Monitoring System
SV 258PRO – Noise and Vibration Monitoring Station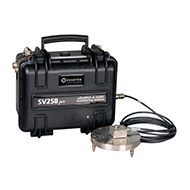 The SV 258 PRO kit consists of two carrying cases. The main unit is a waterproof carrying case with an internal 17 Ah battery and an internal controller supporting powering from an external DC or solar panel. The SVAN 958A Class 1 vibration and sound level meter is installed inside the main unit. The outdoor charger and vibration accelerometer are packed inside the second transportation case. The kit includes a license for SvanPC++ software and a SvanNET base account service. Each kit has its factory calibration certificate and a 36-month warranty upon product registration.
See all accessories
Open list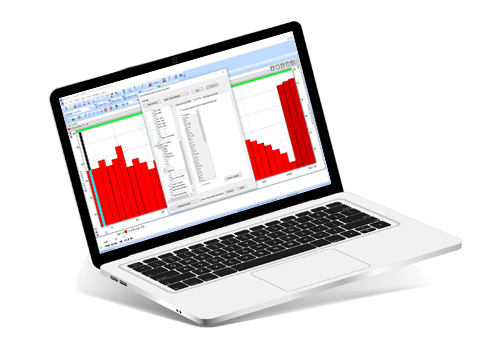 SVANPC++EM - Environmental Module License

The PC software module is designed for data post-processing from noise and vibration measurements. It provides all necessary functionalities for marking / removing / recalculation of the time-history records and presentation the calculated results in a form of reports (text, table and graphic forms).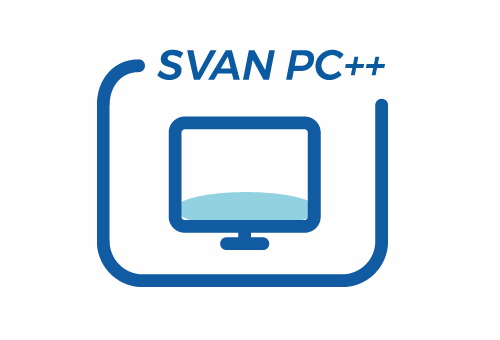 SVANPC++ Software

Advanced PC software for measurement data analysing and post processing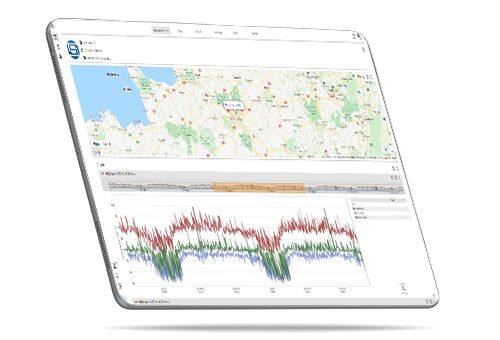 SVANNET_5A - SvanNET 5 stations account subscription - 1 year

SvanNET Automatic Monitoring Services up to 5 monitoring points
Vibration Monitoring Station
Specification
SV 258PRO – Noise and Vibration Monitoring Station
Applications
| | |
| --- | --- |
| Sound measurements | |
| Environmental noise | |
| Building/ground vibration | |
Hardware Features
| | |
| --- | --- |
| Number of channels | 4 |
| Self-vibration detection | |
| Auto-calibration | |
| Remote system check | |
| Keyboard lock | |
| Remote communication | |
| Bluetooth | |
| GPS module | |
| Communication Interfaces | 4G, USB |
| LED indicator | |
| Display | |
| Keyboard | 9 buttons |
| Memory | 32GB |
| Battery type | Internal battery 17 Ah |
| Operating time | up to 7 days |
| Operating temperature range | -10 °C ÷ +50 °C |
| Weight | ca 9 kg |
| Size | 420 x 340 x 210 mm |
| IP rate | IP 65 |
Sound measurements features
| | |
| --- | --- |
| Standards | Class 1: IEC 61672-1 |
| Microphone type | 50mV/Pa |
| Preamplifier type | SV 12L |
| Linear operating range to IEC 61672 | 26 dBA Leq ÷ 140 dBA Peak |
| Total measurement range | 16 dBA Leq÷ 140 dBA Peak |
| Internal noise | < 16 dBA Leq |
| Frequency range | 3.5 Hz ÷ 20 kHz |
| Weighting filters | A, C, Z, G |
| Profiles per channel | 3 |
| Min logging step | 1s |
| Statistics | LN |
| Statistics in octaves or third octaves | |
| Noise directivity detection | |
| Audio recording | |
| Audio streaming | |
| 1/1 octave | |
| 1/3 octave | |
| RT60 | |
Vibration measurement features
| | |
| --- | --- |
| Standards | DIN 4150-3, DIN 4150-2, BS 7385-2, VC-CURVES, USER FFT, USER 1/3 OCT |
| Number of channels | 3 |
| Sensor type | 1V/g |
| Input type | IEPE |
| Measurement range | 0.0005 m/s2 RMS ÷ 50 m/s2 PEAK |
| Frequency range | 0.2 Hz ÷ 315 Hz |
| Profiles per channel | 2 |
| Time constants | 125ms |
| Min logging step | 1s |
| 1/1 octave | |
| 1/3 octave | |
| WAV recording | |
| FFT | |