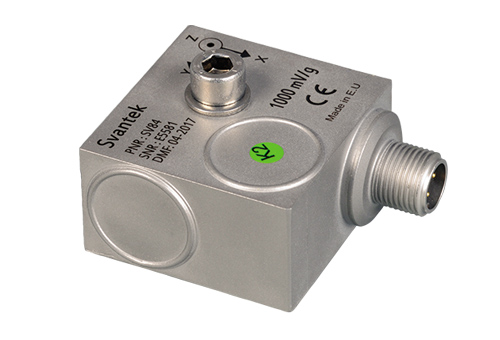 SV 84 – Triaxial outdoor accelerometer 1000 mV/g
SV 84 Triaxial Accelerometer 1000 mV/g  is dedicated to building and ground vibration measurements with Svantek vibration monitors. The transducer is hermetically sealed and it can be used outdoors without additional housing.
The mounting to a building wall is easy thanks to a mounting hole. Signal ground is isolated from the mounting surface and outer case to prevent ground loops.
For the connection to SVAN 958A, a four-channel vibration meter and an extension cable (SC 282) are recommended.
The SV 84 uses 3 axes. Its sensitivity 100 mV/(m/s2) ~ 1000 mV/g. Measurement range is from 0.0005 m/s2 RMS to 50 m/s2 Peak in frequency range from 0.2 Hz to 3 700 Hz. Connector M12, M6 mounting hole.