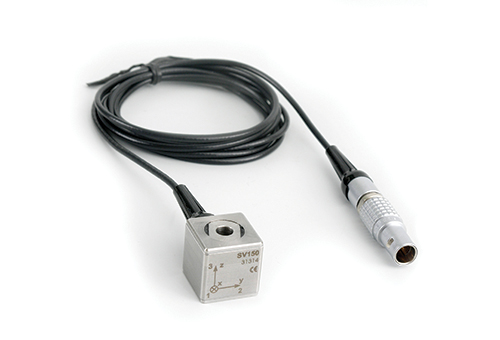 SV 151 – Triaxial MEMS accelerometer for whole-body vibration
SV 151 is a vibration MEMS accelerometer. The sensor is triaxial, which means it measures vibration acceleration in three directions (3 axes) simultaneously. The main application of SV 151 is whole-body vibration measurement with the human vibration meter SV 106. Typically, the accelerometer is attached to a vehicle's floor under the seat to measure floor vibration transmitted to a human body from the floor.
The SV 151 can be used simultaneously with a second triaxial accelerometer placed on a vehicle seat. The vibration data from SV151 placed on a floor and seat accelerometer can be used for the calculation of seat vibration transmission. So-called SEAT measurement provides an answer if the seat attenuates or amplifies vibration levels.
Measurement range of SV 151 triaxial accelerometer is  160 m/s2 PEAK in the frequency range from 0 Hz to 500 Hz (± 3 dB). For calibration with a vibration calibrator, the adapter SA 155 is recommended.