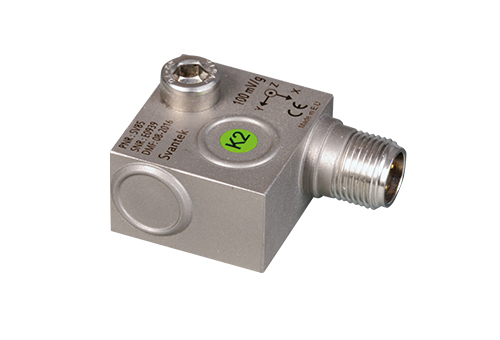 SV 85 – Triaxial outdoor accelerometer 100 mV/g, connector M12, M6 mounting hole
SV 85 is a triaxial accelerometer (IEPE) for vibration measurements with the SVAN 958A vibration meter. The accelerometer housing is hermetically sealed and suitable to monitor the vibration in a harsh industrial environment. Signal ground is isolated from the mounting surface and outer case to prevent ground loops.
The sensitivity of SV 85 is sensitivity 10 mV/(m/s2). The measurement range from 0.005 m/s2 RMS to 500 m/s2 Peak in
frequency range from 0.5 Hz to 13 000 Hz (Z axis); 0.5 Hz to 10 000 Hz (X, Y axis). The accelerometer weight is 84 grams.
For calibration with a vibration calibrator, the SA 155 adapter is recommended.