Intrinsically safe noise dosimeter
SV 104BIS
The intrinsically safe noise dosimeter is a specialized sound level meter compliant with ATEX and IECEx standards, designed for use in hazardous environments like mines and petrochemical plants. It ensures intrinsic safety by adhering to rigorous performance specifications, making it ideal for occupational noise measurements in areas where safety is paramount. The device comes with a 3-year warranty, along with a lifetime warranty for its patented MEMS microphone. Additionally, it features a modern docking station that facilitates rapid data transfer and quick battery recharging.
What is noise dosimeter used for?
A noise dosimeter is used for measuring and monitoring noise exposure levels in work environments, and when designed to be intrinsically safe, it adheres to UK regulations such as the Control of Noise at Work Regulations 2005, as well as international standards like ATEX and IECEx. Specifically tailored for hazardous settings like mines and petrochemical plants, the device ensures compliance with these stringent safety regulations. It continuously records noise levels over a designated period, providing an accurate assessment of an individual's exposure to potentially harmful noise. This data is crucial for implementing safety measures that protect workers' hearing and overall well-being.

ATEX, IECEx


new model


patented
Wearable noise dosimeter
Catalogue
Intrinsically Safe Noise Dosimeter
A wearable noise dosimeter equipped with a robust, patented MEMS microphone, Bluetooth® interface, and 8GB memory is a cutting-edge device designed for precise and convenient noise exposure monitoring. The patented MEMS (Micro-Electro-Mechanical Systems) microphone ensures high-fidelity sound capture, making the measurements more accurate and reliable. The Bluetooth® interface allows for real-time data transmission to other devices, facilitating immediate analysis and action. With 8GB of memory, the dosimeter can store extensive data, reducing the need for frequent data transfers and allowing for long-term monitoring.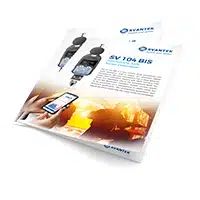 Personal noise dosimeter
Function

Intrinsically safe noise dosimeter
ATEX and IECEx certification
Intrinsic safety (IS) is crucial for ensuring the safe operation of electrical equipment like the SV 104BIS personal noise dosimeter in hazardous environments, as it minimises the risk of ignition caused by electrical or thermal energy. The SV 104BIS adheres to the ATEX directive and IECEx certification scheme, which are stringent standards designed to regulate equipment used in potentially explosive atmospheres. By limiting the energy available for ignition, the device can safely operate in high-risk areas such as mines, petrochemical plants, and other industrial settings where flammable gases or dust are present. Intrinsic safety ensures that the equipment will not become an ignition source, thereby safeguarding both the workers and the facility. This level of safety is essential for compliance with occupational health and safety regulations, and it provides peace of mind for both employers and employees. The ATEX and IECEx certifications serve as a guarantee that the device meets international safety standards, making it a reliable choice for noise monitoring in hazardous conditions.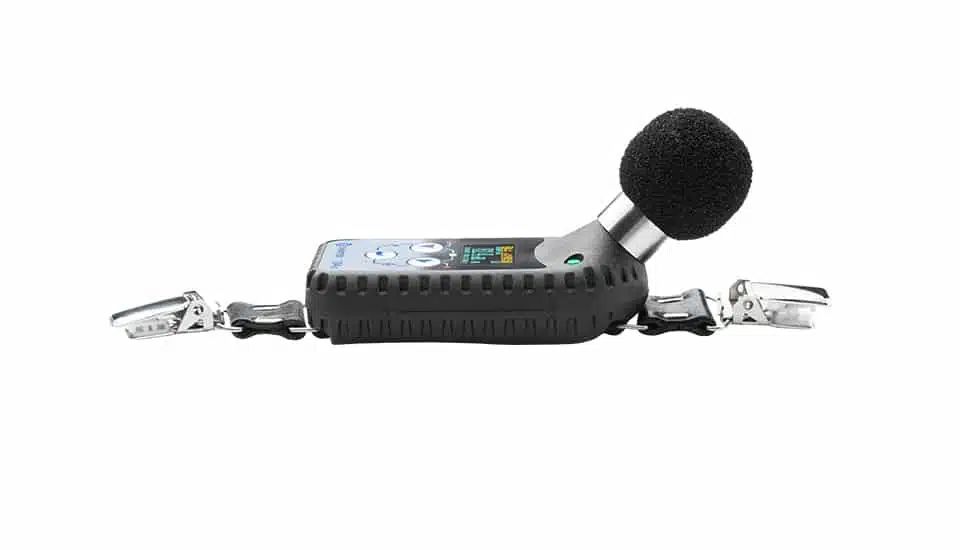 Best noise dosimeter
Hardware features
The new SV 104 BIS is considered one of the best noise dosimeters due to its advanced features, which include a new MEMS microphone, an expansive measuring range, large 8GB memory, and fast data transmission capabilities via a new docking station. The MEMS microphone provides a measuring range from 53 dB Leq to 143 dB Peak, allowing for highly accurate and comprehensive noise level assessments across a wide range of environments. This broad measuring range is particularly beneficial for capturing both low and high noise levels, making the device versatile and suitable for various industrial settings.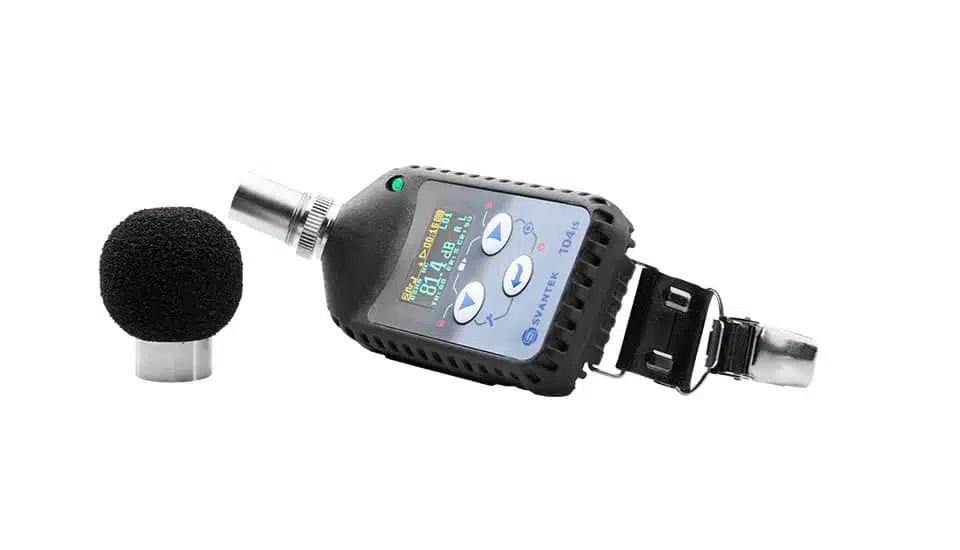 Noise dosimeter software
Options for noise sources recognition
The large 8 GB memory enables the SV 104BIS to record 1/1 or 1/3 octave bands in real-time and simultaneous audio recording. The 1/1 octave analysis is often used for the selection of hearing protectors. The 1/3 octave function allows the determination of the influence of high or low frequencies on overall values. Audio recording is synchronized with a noise time-history and it can be opened and played back in PC software enabling noise source recognition.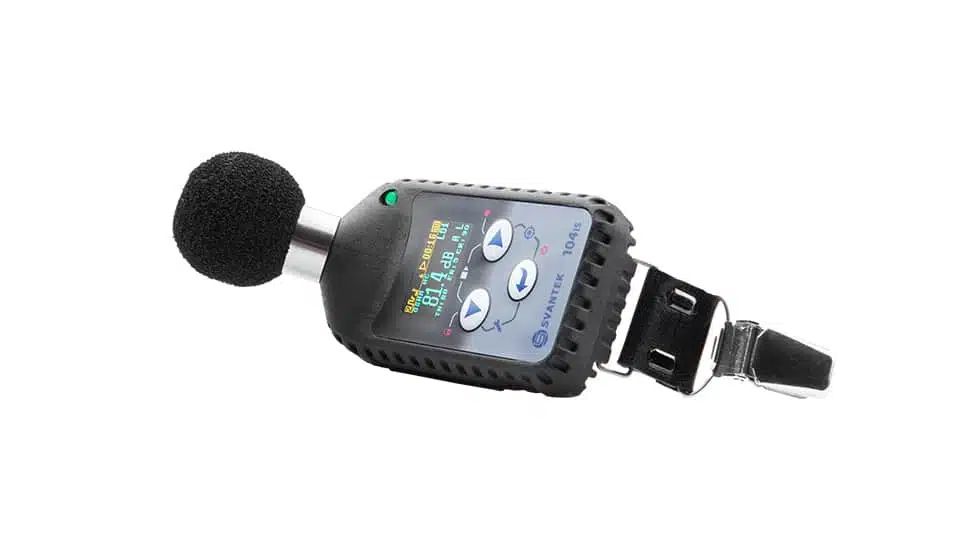 Noise dosimeter app
Remote connection via Bluetooth® interface
The software accompanying the SV 104BIS noise dosimeter capitalises on the device's large 8GB memory to offer advanced features like real-time recording of 1/1 or 1/3 octave bands, as well as simultaneous audio recording. The 1/1 octave analysis is particularly useful for selecting appropriate hearing protectors, as it provides a comprehensive overview of the noise spectrum to which workers are exposed. This helps in choosing hearing protection that is most effective for the specific frequencies present in the work environment. The 1/3 octave function, on the other hand, allows for a more nuanced understanding of how high or low frequencies influence overall noise levels. This is crucial for identifying specific noise sources that may require targeted noise control measures. The software also enables audio recording to be synchronized with a noise time-history. This feature is invaluable for noise source recognition, as it allows safety professionals to play back the audio on PC software and pinpoint the exact sources of harmful noise levels.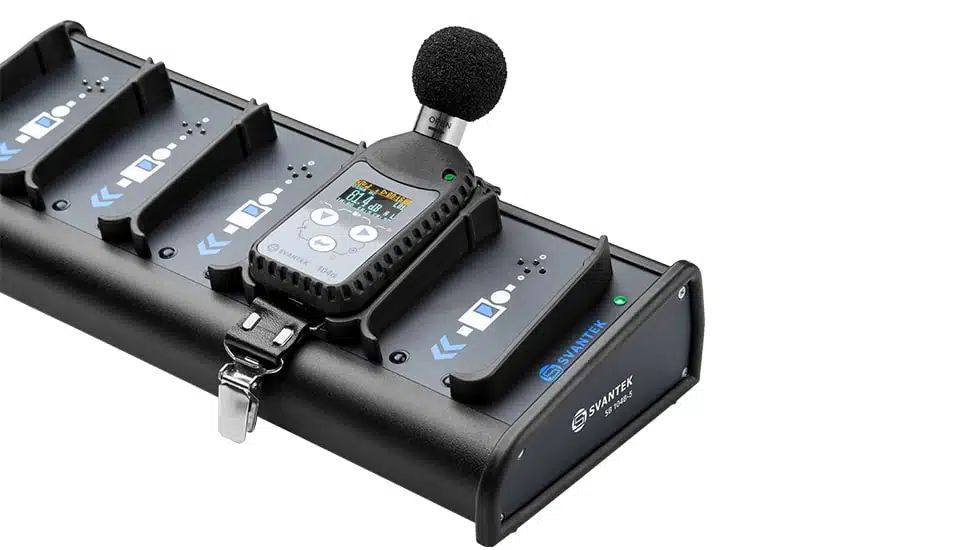 Measurement accuracy
BS EN 61252 and BS EN 61672 standards
The SV 104BIS noise dosimeter's measurement accuracy is in compliance with BS EN 61252 and BS EN 61672 standards for Class 2 sound level meters, ensuring that it meets stringent criteria for precision and reliability. These British standards are widely recognized benchmarks for the performance of sound measuring instruments. The device is also suitable for noise exposure measurements in accordance with BS EN 9612, another key standard that outlines methodologies for determining occupational noise exposure. The SV 104BIS features time history logging capabilities, recording key metrics such as Leq (equivalent continuous noise level), Max (maximum noise level), Min (minimum noise level), and Peak levels. These metrics are logged in two simultaneous steps and saved in the device's internal memory. This allows for a comprehensive and nuanced understanding of noise exposure over time, which is crucial for effective occupational health and safety planning.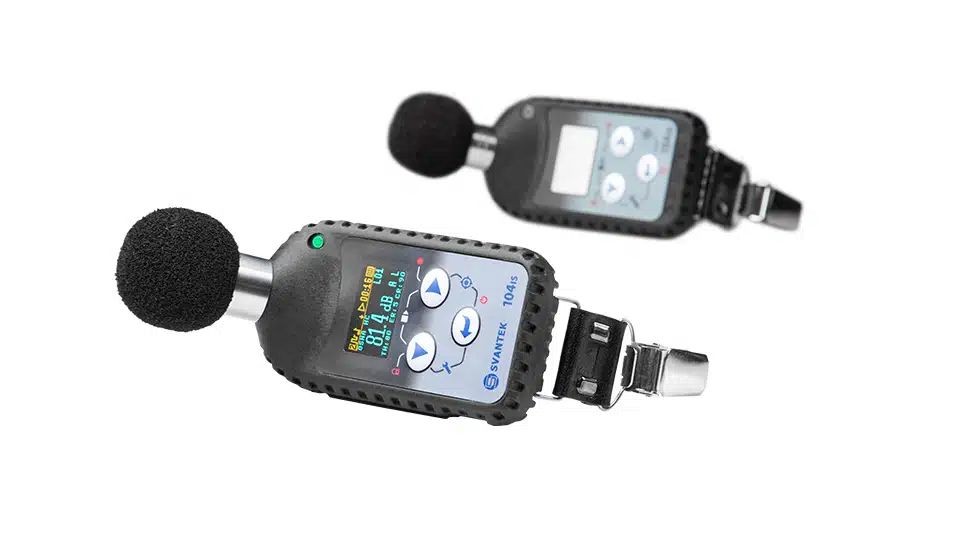 Auto-calibration
automatic start of calibration
The SV 104BIS noise dosimeter features an auto-calibration function that simplifies the process of noise dosimetry measurements. Once the device detects a calibration signal, it automatically calibrates itself and saves the calibration data along with the measurement file. This occurs both before and after the measurement is taken, ensuring consistent accuracy throughout the monitoring period. The importance of this auto-calibration feature lies in its contribution to both ease of use and data integrity. Manual calibration can be time-consuming and prone to human error, whereas auto-calibration eliminates these issues, making the device more user-friendly. Additionally, by saving the calibration data with the measurement file, the SV 104BIS provides a complete and traceable record of each measurement. This is crucial for compliance with occupational health and safety regulations, as it allows for transparent auditing and verification of the data.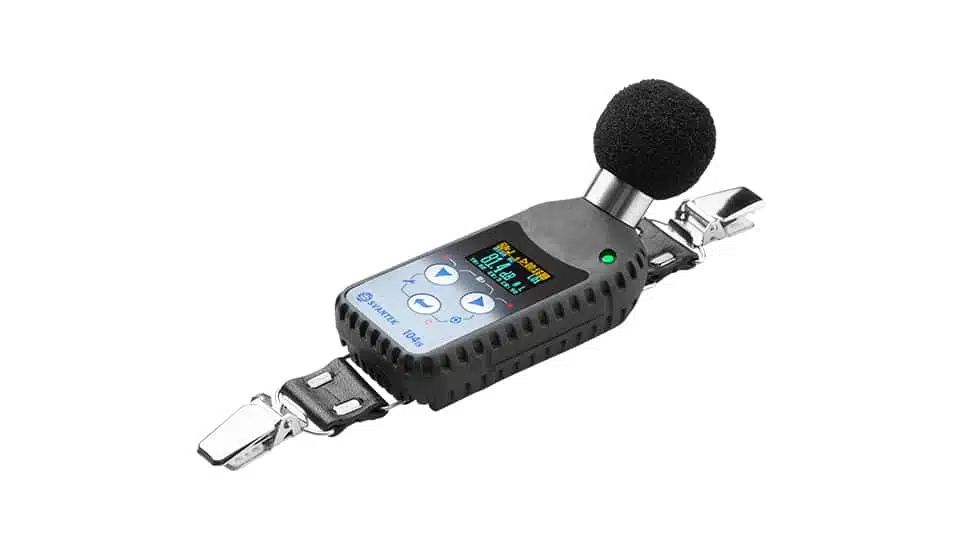 Noise Measurement
Applications

Occupational Noise
Compliance with UK Occupational Noise Regulations
The SV 104BIS noise dosimeter's expansive dynamic range of 100 dB, which measures noise levels from 53 dBA Leq to 143 dB Peak, is particularly advantageous for compliance with UK-specific regulations such as the Control of Noise at Work Regulations 2005. This broad range enables the device to capture a wide spectrum of noise levels, from the subtle background noise to sudden, loud bursts. This versatility ensures that the device can be reliably used in various work environments, from offices to industrial settings, to assess compliance with UK noise exposure limits. In addition to its technical capabilities, the SV 104BIS's adherence to UK regulations provides employers with a robust tool for maintaining a safe work environment in accordance with local laws. By meeting the stringent criteria set forth in UK occupational noise regulations, the device offers a level of assurance for both employers and employees. It allows for accurate and comprehensive noise exposure assessments, which are crucial for implementing effective noise control measures and safeguarding workers' hearing health.
Read more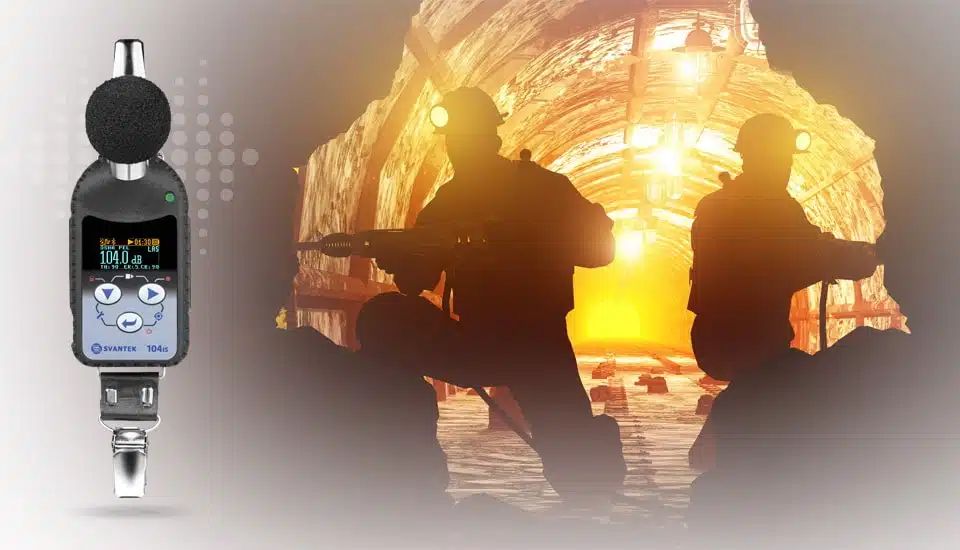 New generation of noise dosimeters
Audio recording, measurement in octaves and MEMS microphones changed the noise dosimetry measurements
Application of the dosimeter in practice
An example of the use of a noise dosimeter during a sports event with high noise levels
Noise dosimeter configuration
A quick way to configure measurement parameters for noise measurement at workplaces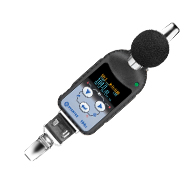 Intrinsically safe noise dosimeter
The standard SV 104BIS kit includes a patented MEMS microphone with a life-time warranty, a windscreen with a stainless steel mounting thread. The dosimeter has inbuilt 8 GB memory and a license for PC software (for communication with a PC the optional docking station is required). Each SV 104BIS has its factory calibration certificate and 36-months warranty upon product registration.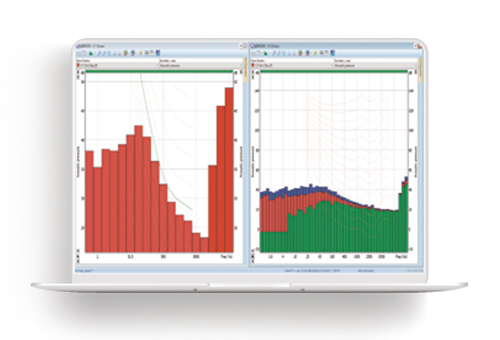 SF 104BIS_3OCT - License of 1/1 & 1/3 octave analysis for SV 104BIS

License of 1/1 & 1/3 octave analysis for SV 104BIS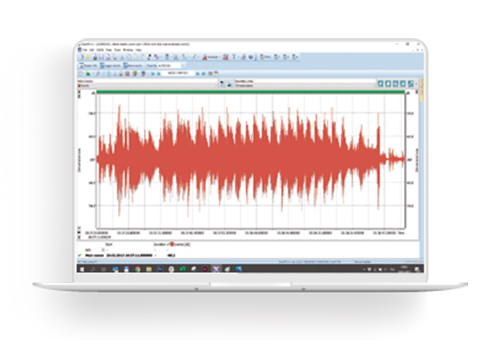 SF 104BIS_WAV - License of Audio events recording for SV 104BIS

License of Audio events recording for SV 104BIS
Intrinsically safe noise dosimeter
Applications
Hardware Features
| | |
| --- | --- |
| Number of channels | 1 |
| Intrisic safety | |
| Self-vibration detection | |
| Auto-calibration | |
| Remote system check | |
| Keyboard lock | |
| Remote communication | |
| Bluetooth | |
| Communication Interfaces | Bluetooth, Electrical contacts (docking station required) |
| LED indicator | |
| Display | |
| Keyboard | 3 push buttons |
| Memory | 8 GB |
| Battery type | Li-Ion rechargeable cell |
| Operating time | 45 hours |
| Operating temperature range | -10 °C ÷ +50 °C |
| Humidity range | up to 90 % RH |
| Weight | 117 g |
| Size | 88 x 49.5 x 19.2 mm |
| IP rate | IP 65 |
| Docking station required | |
Sound measurements features
| | |
| --- | --- |
| Standards | EC 61252 ed1.1 (2002); ANSI S1.25-1991 (R2020); Class 2 IEC 61672-1 ed2.0 (2013) |
| Type approvals | Yes |
| Microphone type | ST 104B MEMS |
| Preamplifier type | Integrated |
| Linear operating range to IEC 61672 | 53 dBA RMS ÷ 143 dBA Peak |
| Total measurement range | 46 dBA RMS ÷ 143 dBA Peak |
| Frequency range | 20 Hz ÷ 10 kHz |
| Weighting filters | A, C and Z |
| Time constants | Slow, Fast, Impulse |
| Exchange rates | 2, 3, 4, 5, 6 |
| Criterion levels | selectable |
| Profiles per channel | 3 with independent settings of filters (x) and time constants (y) |
| Min logging step | 1s |
| Statistics in octaves or third octaves | |
| Audio recording | option |
| Voice coments | |
| 1/1 octave | option |
| 1/3 octave | option |