Intrinsically safe noise dosimeter
SV 104BIS
The intrinsically safe dosimeter is a noise dosimeter designed by the ATEX directive and the IECEx performance specifications. The intrinsically safe dosimeter is typically used in occupational noise measurements in areas such as mines and petrochemical plants where it is necessary to secure intrinsic safety.
The dosimeter is covered by a 3-year warranty and a life-time warranty for the patented MEMS microphone. The intrinsically safe dosimeter uses a new type of docking station for fast data transfer and quick battery recharging.
SV104BIS - the newest version of intrinsically safe dosimeter for 2022
The SV 104BIS is the newest version (2022) of an intrinsically safe noise dosimeter. Like its predecessor, the SV 104BIS is a cable-free dosimeter and is typically attached to the user's shoulder, close to the ear using the mounting clips supplied.
Among the unique features of the new model, the software is automatic noise dose calculation, sound pressure level logging, audio recording, octave band frequency analysis, and auto-calibration. The new ATEX dosimeter has an 8GB memory and fast data transfer via new docking stations. The new Bluetooth® interface enables previewing current results on a mobile app.

ATEX, IECEx


new model


patented
Intrinsically Safe Dosimeter
Catalogue
Intrinsically Safe Noise Dosimeter
It's here! The SV 104 BIS is a new version of an intrinsically safe SVANTEK noise dosimeter with a robust, patented MEMS microphone, Bluetooth® interface, and 8GB flash memory. Fast data transmission is provided by a completely new docking stations.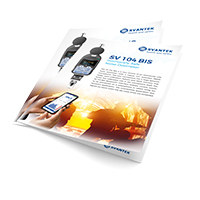 ATEX Noise Dosimeter
Features

Intrinsically safe noise dosimeter
ATEX and IECEx certification
Intrinsic safety (IS) is a protection technique for safe operation of electrical equipment in hazardous areas by limiting the energy, electrical and thermal, available for ignition. The SV 104BIS is the IS personal noise dosimeter in accordance to ATEX directive and IECEx certification scheme.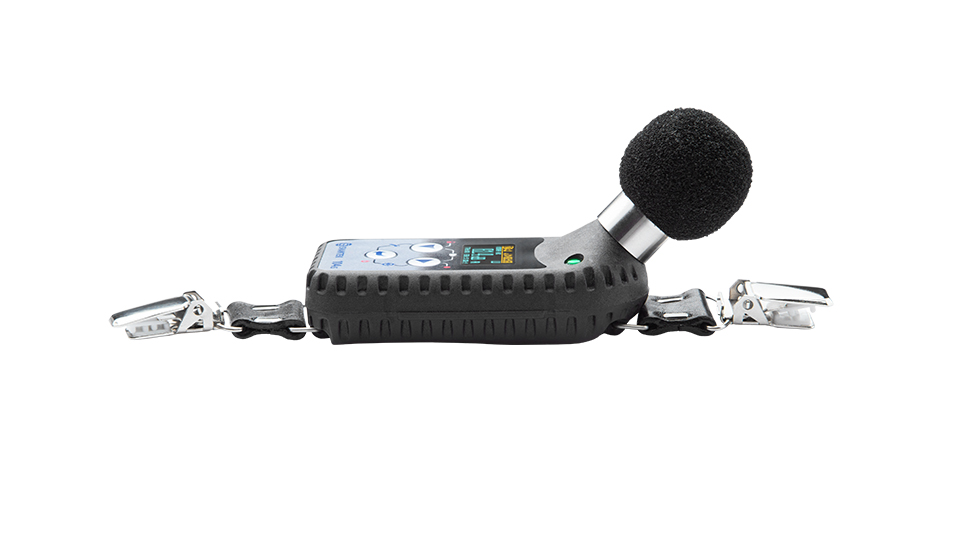 New hardware
patented MEMS microphone and faster data transfer
The new SV 104 BIS is equipped with the new MEMS microphone, which offers a measuring range from 53 dB Leq to 143 dB Peak. The list of addons includes new large 8 GB memory and fast data transmission with a new completely docking stations.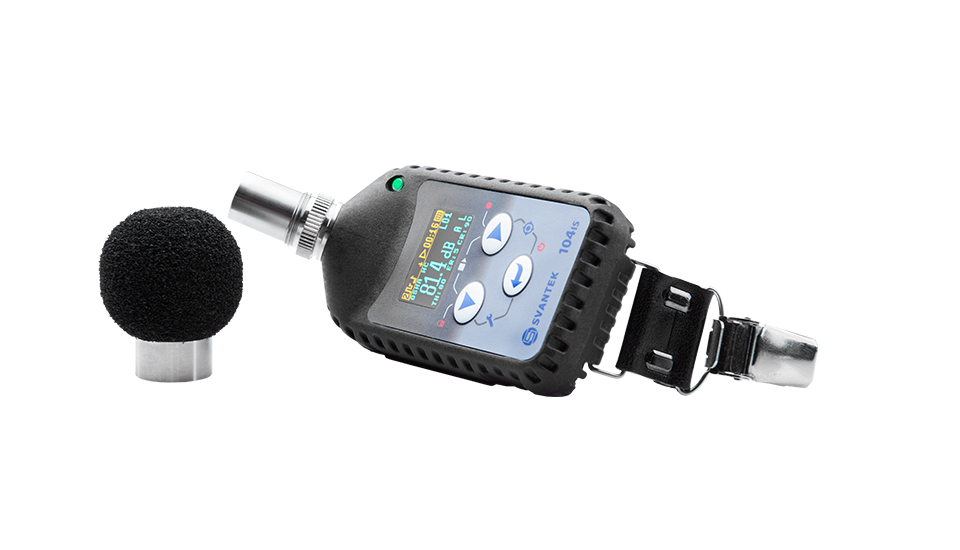 New firmware
Options for noise sources recognition
The large 8 GB memory enables the SV 104BIS to record 1/1 or 1/3 octave bands in real-time and simultaneous audio recording. The 1/1 octave analysis is often used for the selection of hearing protectors. The 1/3 octave function allows the determination of the influence of high or low frequencies on overall values. Audio recording is synchronized with a noise time-history and it can be opened and played back in PC software enabling noise source recognition.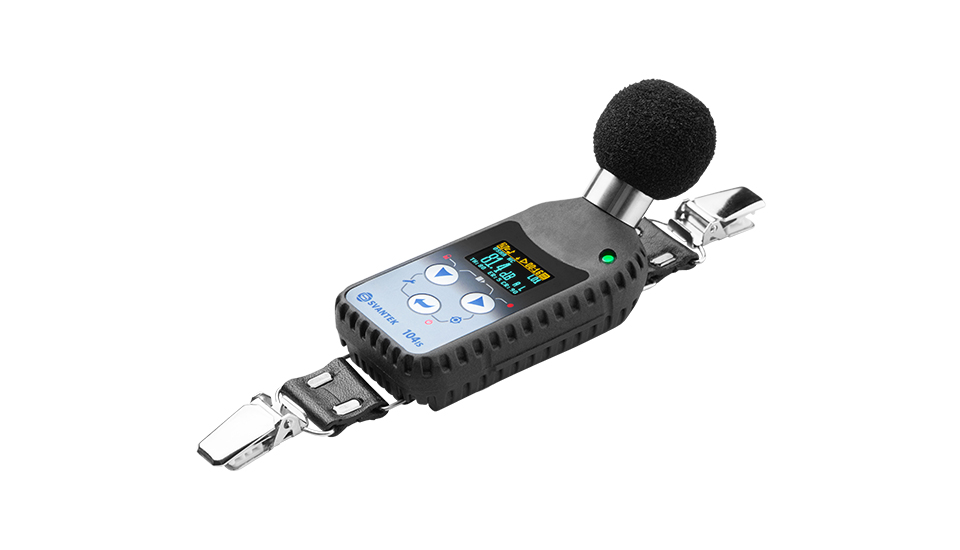 Mobile application
Remote connection via Bluetooth® interface
The Bluetooth interface enables current results to be previewed on a smartphone Assistant application without disturbing the workers. The smartphone application signals alarms when the set noise limits are exceeded.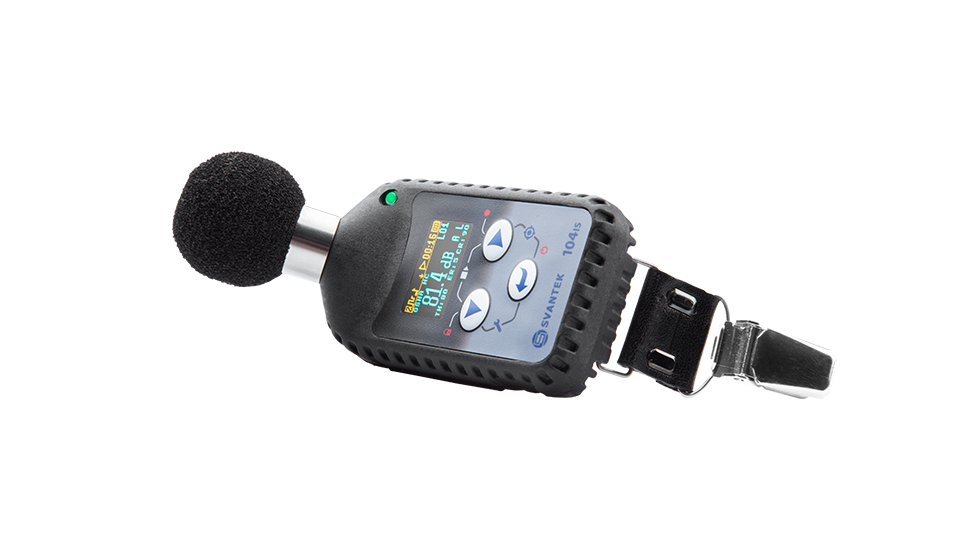 Measurement accuracy
in accordance with ANSI S1.25 and IEC 61252 standards
The dosimeter has been designed to meet requirements of the ANSI S1.25 and IEC 61252 standards for noise dosimeters and the IEC 61672 standard for class 2 sound level meters. SV 104BIS r is suitable for noise exposure measurements in accordance to the ISO 9612 as well as OSHA, MSHA and ACGIH standards. The time history logging of results such as Leq, Max, Min and Peak with two simultaneous logging steps is saved in internal memory. All dosimetry results such as DOSE, TWA, Lav are also included.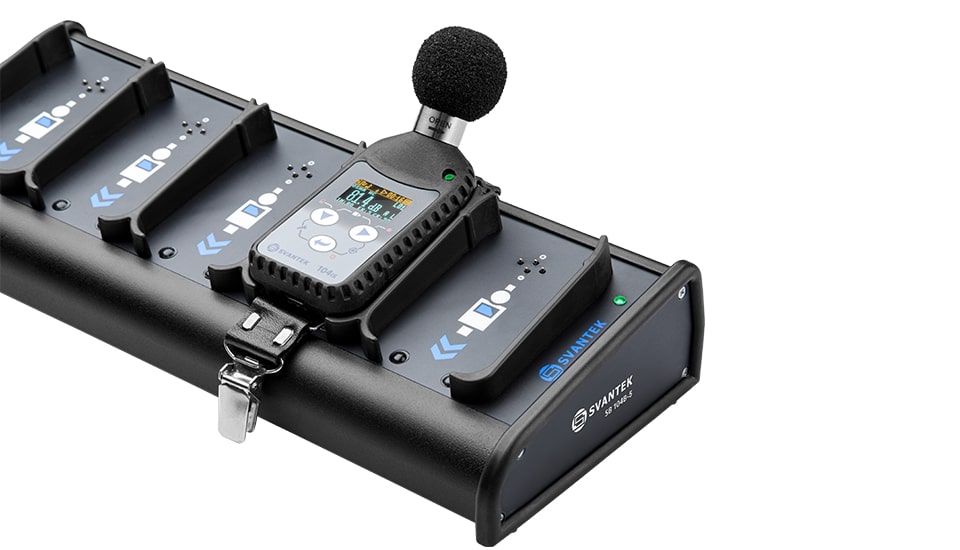 Auto-calibration
automatic start of calibration
We have designed the SV 104BIS to make noise dosimetry measurements easier, once the SV 104BIS detects a calibration signal, it calibrates automatically saving the calibration data together with the measurement fi le, before and after measurement.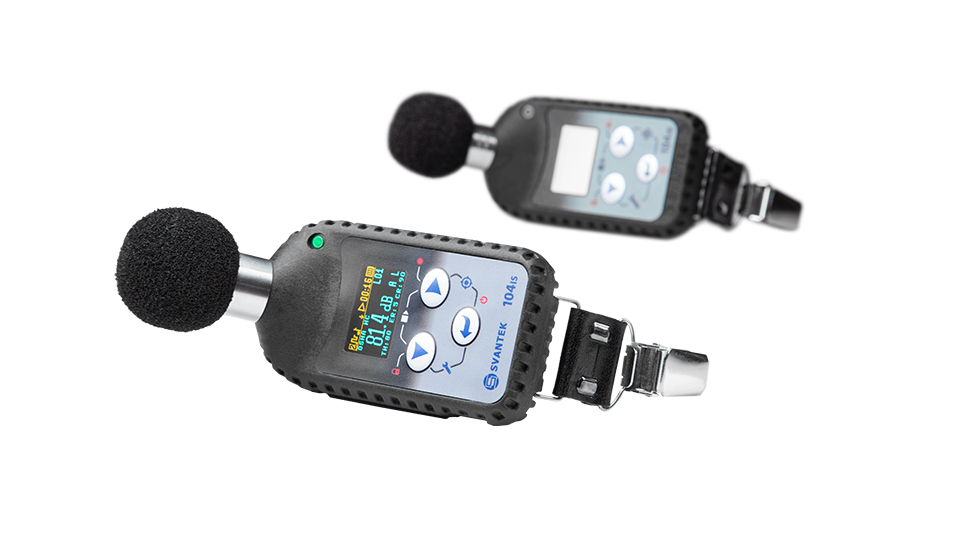 Noise Measurement
Applications

Occupational Noise
Measurements in accordance to international standards
The SV 104BIS has a large dynamic range of the 100 dB which allows to measure noise from 53 dBA Leq to 143 dB Peak which enables measurements in accordance to all international standards for occupational health and safety, including European Parliament Noise Directive and OSHA.
Read more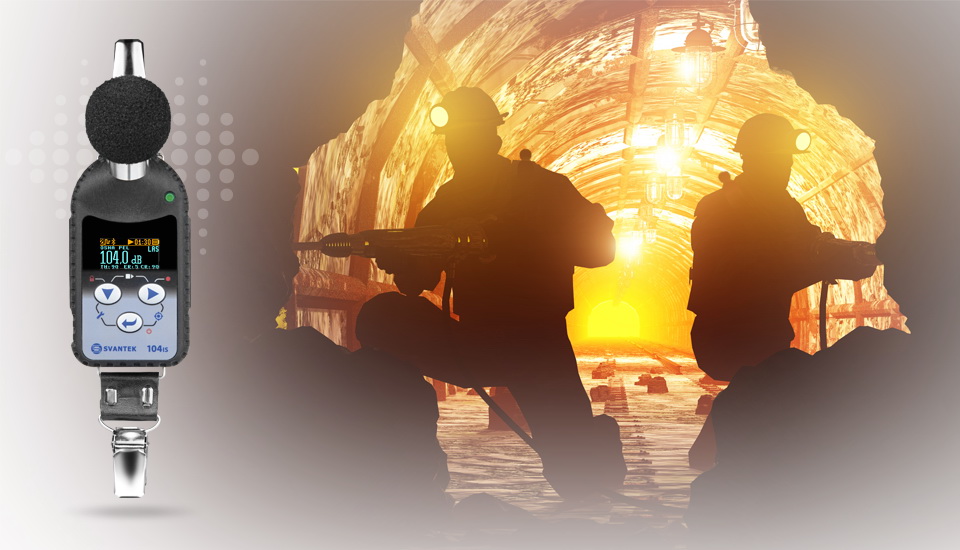 New generation of noise dosimeters
Audio recording, measurement in octaves and MEMS microphones changed the noise dosimetry measurements
Application of the dosimeter in practice
An example of the use of a noise dosimeter during a sports event with high noise levels
Noise dosimeter configuration
A quick way to configure measurement parameters for noise measurement at workplaces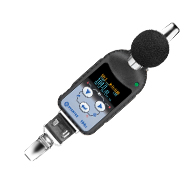 SV 104BIS – Intrinsically safe noise dosimeter
The standard SV 104BIS kit includes a patented MEMS microphone with a life-time warranty, a windscreen with a stainless steel mounting thread. The dosimeter has inbuilt 8 GB memory and a license for PC software (for communication with a PC the optional docking station is required). Each SV 104BIS has its factory calibration certificate and 36-months warranty upon product registration.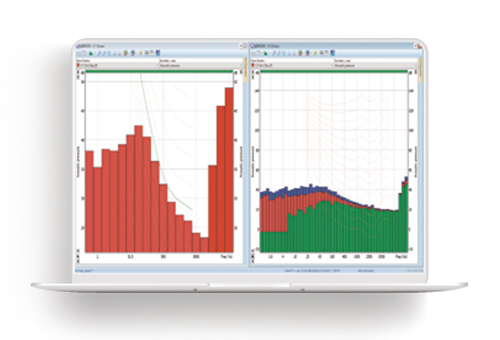 SF 104BIS_3OCT - License of 1/1 & 1/3 octave analysis for SV 104BIS

License of 1/1 & 1/3 octave analysis for SV 104BIS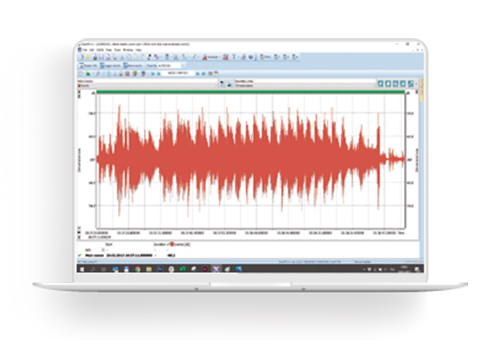 SF 104BIS_WAV - License of Audio events recording for SV 104BIS

License of Audio events recording for SV 104BIS
SV 104BIS – Intrinsically safe noise dosimeter
Applications
Hardware Features
| | |
| --- | --- |
| Number of channels | 1 |
| Intrisic safety | |
| Self-vibration detection | |
| Auto-calibration | |
| Remote system check | |
| Keyboard lock | |
| Remote communication | |
| Bluetooth | |
| Communication Interfaces | Bluetooth, Electrical contacts (docking station required) |
| LED indicator | |
| Display | |
| Keyboard | 3 push buttons |
| Memory | 8 GB |
| Battery type | Li-Ion rechargeable cell |
| Operating time | 45 hours |
| Operating temperature range | -10 °C ÷ +50 °C |
| Humidity range | up to 90 % RH |
| Weight | 117 g |
| Size | 88 x 49.5 x 19.2 mm |
| IP rate | IP 65 |
| Docking station required | |
Sound measurements features
| | |
| --- | --- |
| Standards | EC 61252 ed1.1 (2002); ANSI S1.25-1991 (R2020); Class 2 IEC 61672-1 ed2.0 (2013) |
| Type approvals | Yes |
| Microphone type | ST 104B MEMS |
| Preamplifier type | Integrated |
| Linear operating range to IEC 61672 | 53 dBA RMS ÷ 143 dBA Peak |
| Total measurement range | 46 dBA RMS ÷ 143 dBA Peak |
| Frequency range | 20 Hz ÷ 10 kHz |
| Weighting filters | A, C and Z |
| Time constants | Slow, Fast, Impulse |
| Exchange rates | 2, 3, 4, 5, 6 |
| Criterion levels | selectable |
| Profiles per channel | 3 with independent settings of filters (x) and time constants (y) |
| Min logging step | 1s |
| Statistics in octaves or third octaves | |
| Audio recording | option |
| Voice coments | |
| 1/1 octave | option |
| 1/3 octave | option |