Class 2 Sound Level Meter
SV 973
SV 973 Class 2 Sound Level Meter meets IEC 61672 and comes with a lifetime warranty on the MEMS microphone. Because the external microphone it is constructed of two MEMS microphones, it may detect sounds as high as 141 dB Peak and as low as 25 dB in the presence of low background noise. The SV 973 sound level meter describes its small size and weight. It is perfect for on-the-go use.
What is a Class 2 Sound Level Meter?
The Class 2 Sound Level Meter is a noise measuring device that meets IEC 61672 class 2 standards. It has a microphone, a preamplifier, a signal processor, and a display that displays noise results. The class 2 specification is very similar to the class 1 sound level meter specification, but with different acceptance limits and a different range of operational temperature. Class 2's acceptance limits are greater than or equal to those of class 1.
Check the sound level meter price here

Class 2 IEC61672


Frequency Analysys


MEMS microphone
SV 973 Sound Level Meter
Catalogue
SV 973 Sound Level Meter
Discover all the features of SV 973 noise level meter that assist you in completing noise at work sampling tasks quickly and efficiently.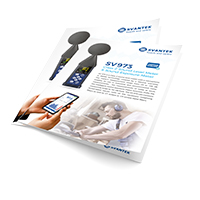 The large measurement range
The measurement range of the sound level meter
The measurement range of sound level meters is the lower and upper extremities of noise levels that a meter can detect while still meeting IEC 61672 tolerance limits in the frequency bands. The SV 973 has two measuring ranges and a total measuring range of 25 dBA Leq÷141 dBA Peak.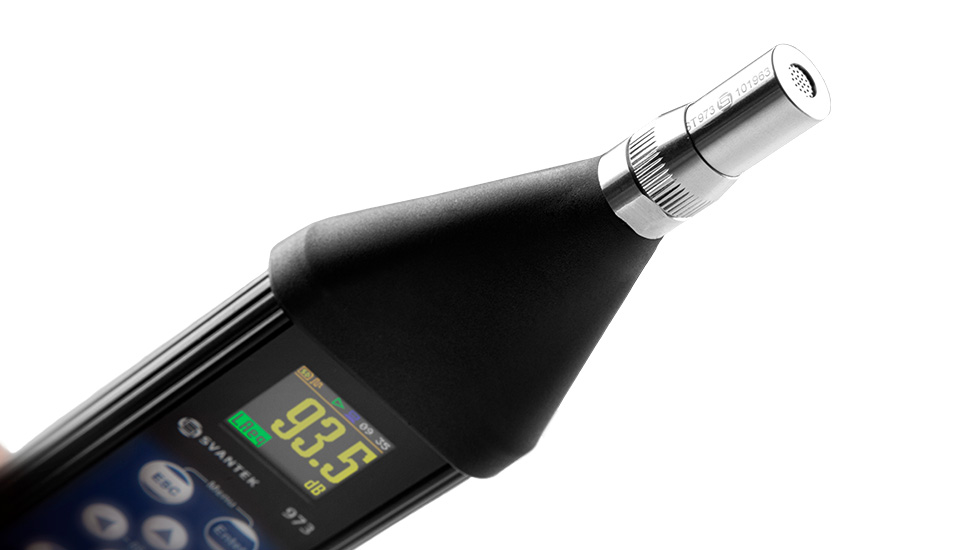 Logging sound level meter
Digital sound level meter with logging
A digital sound level meter is a noise measuring device that employs an analog-digital converter (ADC) and time weightings to convert noise measurements into a digital signal shown on screen in decibels. The noise readings are recorded in the memory of sound level meters as time histories, with integration intervals.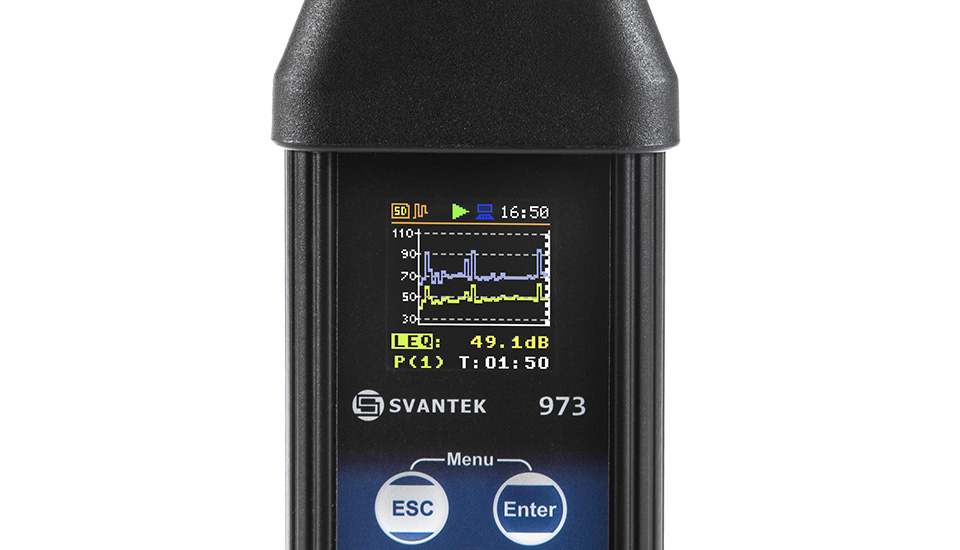 Professional sound level meters
New generation of sound level meters
There are three types of sound level meters: Class 1 and Class 2 devices following IEC 61672 tolerance limits, and low-cost sonometers or decibel meters. The new SV 973 sound level meter, and the SV 971A class 1 sound level meter are two new generation models that comply with IEC 61672 performance criteria. They have a small size and weight as well as improved application compatibility via mobile apps, which is their main feature.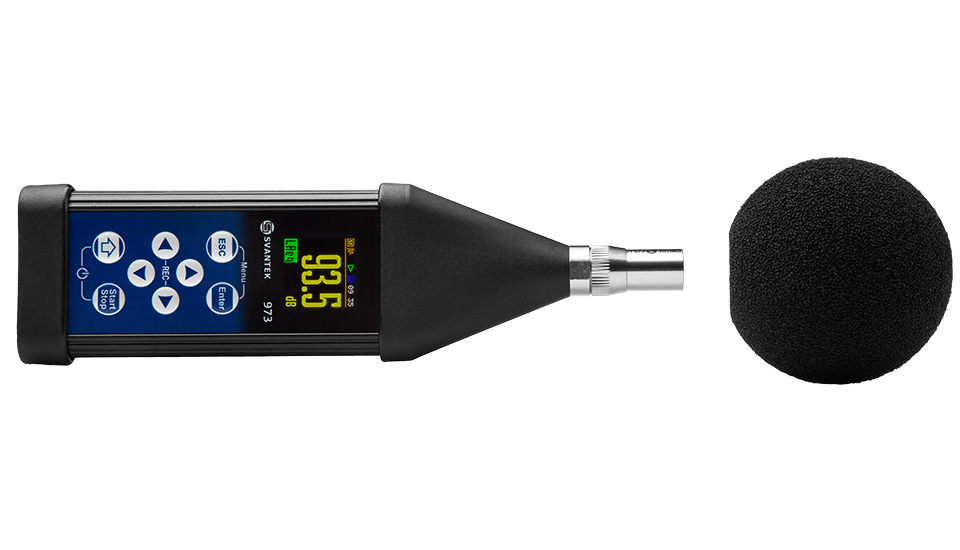 Patented microphone technology
A lifetime warranty for the MEMS microphone.
The SV 973 noise meter is the first product in its class to feature a high-performance MEMS microphone. Because these type of electronic components are shock resistant and require less power, MEMS microphones are better than piezoelectric ones. The SV 973 sound level meters feature a 38-hour battery life thanks to its superior MEMS microphone!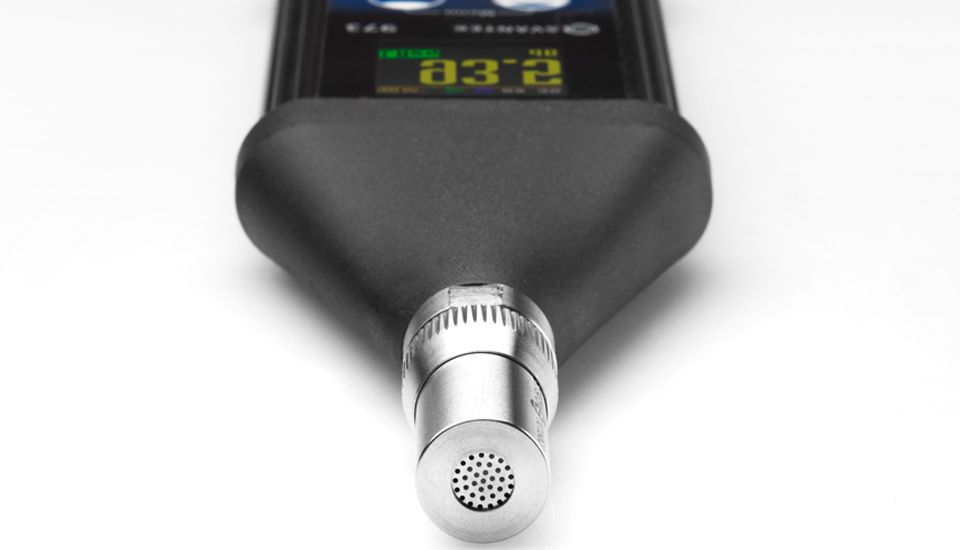 Noise Analyser Options
1/1 and 1/3 octaves, wav recording, RT60 and STIPA
The SV973 Sound Level Meter is one of the most accurate class 2 meters on the market due to its measurement abilities. Noise analyzer choices such as 1/1 and 1/3 real-time octave analysis, wav recording, reverberation time measurement, and even STIPA speech intelligibility go well above and beyond what other class 2 meters.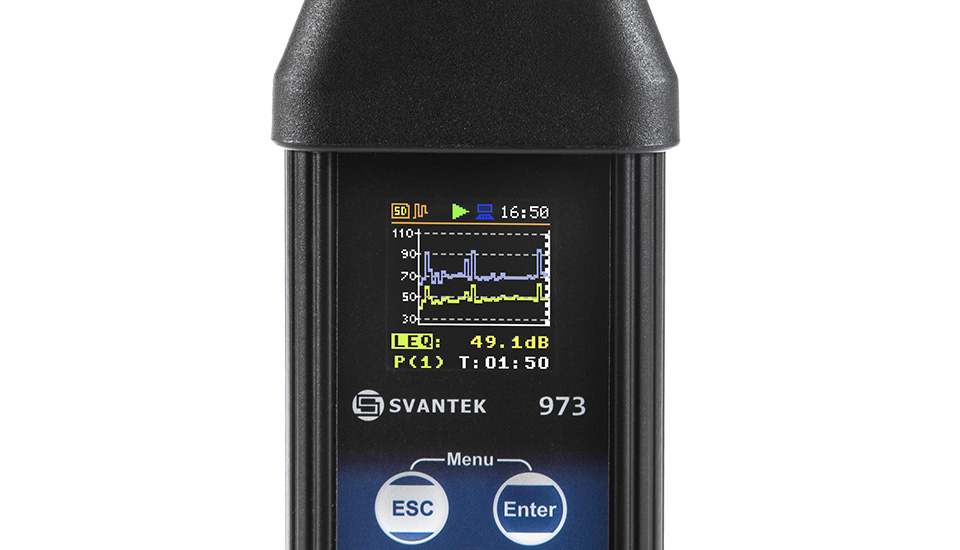 Sound Meter Apps
Meter App for Android or iOS device and software for PC
The SV 973 is also equipped with a Bluetooth and Assistant mobile software that allows you to extend the noise measurement capabilities (e.g. remote start/stop) and perform STIPA or
RT60
measurements using your smart device. The PC software offers reporting and unique functions of hearing protectors selection to protect your hearing.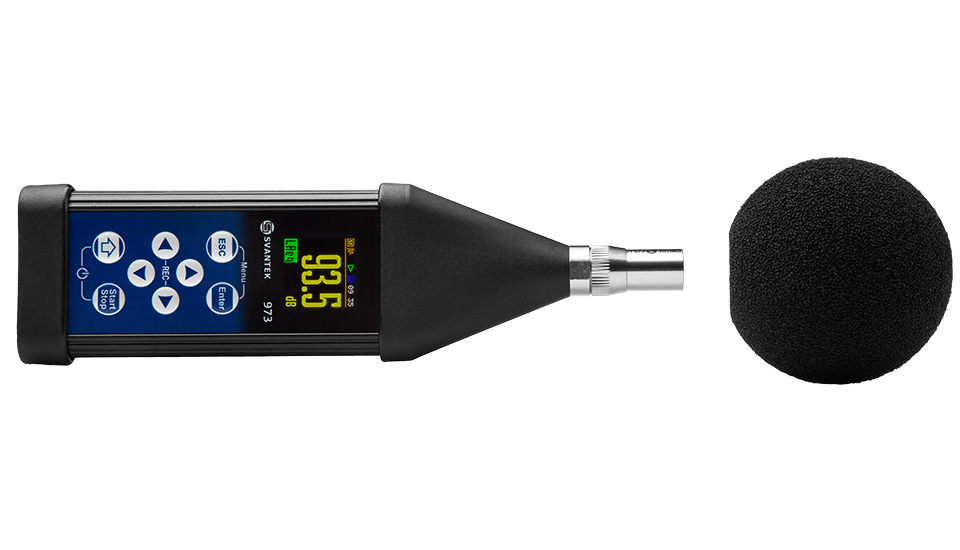 Calibration with an Acoustic Calibrator
Autocalibration feature at reference frequencies
With the autocalibration feature, sound level meters may be quickly calibrated in the field using an acoustic calibrator, as soon as the microphone is placed into the calibrator. The noise meter can be calibrated at two levels 94 dB and 114 dB.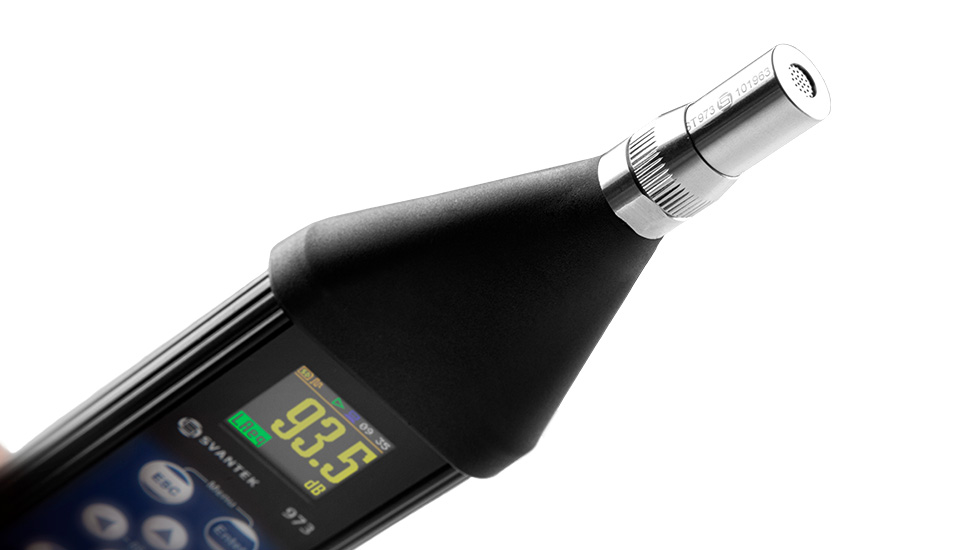 SV 973 Noise Meter
Videos
SV 973 Overview
See why the SV 973 sound level meters are different from all class 2 instruments
Professional SLM
Discover amazing features of the SV 973 sound level meter
Class 2 Sound Level Meter
SV 973 Class 2 Sound Level Meter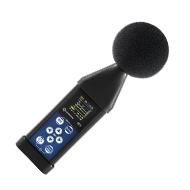 The kit consist of SV 973 Class 2 sound level meter equipped with a new robust MEMS microphone with a life-time warranty. The kit includes: SA 22 windscreen, SA 80 soft bag for instrument, 8 GB built-in memory, four AAA batteries, USB-C cable, and pendrive with user manual. Each SV973 has its factory calibration certificate and 36 months warranty upon product registration.
Open all accessories
Open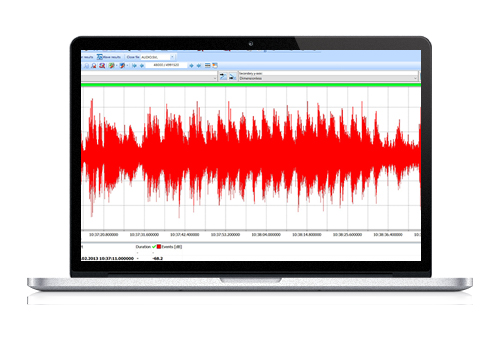 SF973_15 - Firmware option to SV 973: audio (WAV) recording

The firmware option to SV 973: audio (WAV) recording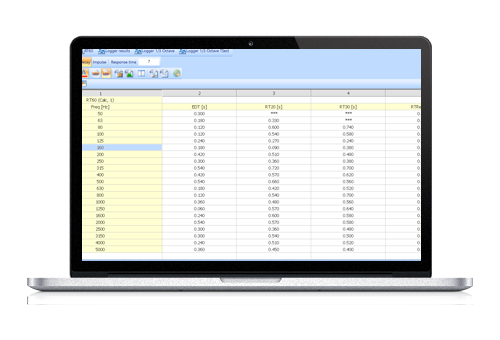 SF973_5 - Reverberation time analysis (RT60) option for SV 973

Reverberation time analysis (RT60) option for SV 973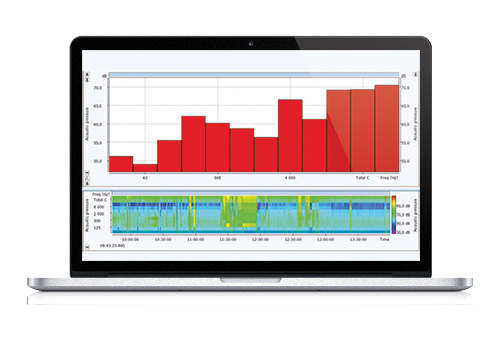 SF973_2 - Firmware option to SV 973: 1/3 octave analysis

The firmware option to SV 973: 1/3 octave analysis
SV 973 Class 2 Sound Level Meter
Applications
| | |
| --- | --- |
| Sound measurements | |
| Occupational noise | |
| Building acoustics | |
Hardware Features
| | |
| --- | --- |
| Number of channels | 1 |
| Self-vibration detection | |
| Auto-calibration | |
| Bluetooth | |
| Communication Interfaces | USB, Bluetooth |
| Display | |
| Keyboard | 8 keys |
| Memory | internal 8 GB |
| Battery type | 4 x AAA |
| Operating time | 20-38 hours |
| Operating temperature range | -10 °C to 50 °C |
| Humidity range | up to 95% RH, non-condensed |
| Weight | 225 g |
| Size | 205 x 52 x 20 mm |
Sound measurements features
| | |
| --- | --- |
| Standards | Class 2: IEC 61672-1:2013 |
| Microphone type | MEMS |
| Preamplifier type | Integrated |
| Linear operating range to IEC 61672 | SLM: 32 dBA Leq÷128 dBA Peak |
| Total measurement range | 25 dBA Leq÷141 dBA Peak |
| Internal noise | < 25 dBA RMS |
| Frequency range | 20 Hz ÷ 10 kHz |
| Weighting filters | Frequency weighting: A, B, C, Z, LF |
| Time constants | Slow, Fast, Impulse |
| Exchange rates | 2, 3, 4, 5, 6 |
| Criterion levels | adjustable |
| Profiles per channel | 3 |
| Min logging step | 100 ms |
| Statistics | Ln (L1-L99) |
| Statistics in octaves or third octaves | |
| Audio recording | option |
| Voice coments | |
| 1/1 octave | option |
| 1/3 octave | option |
| RT60 | option |
| STIPA | option |