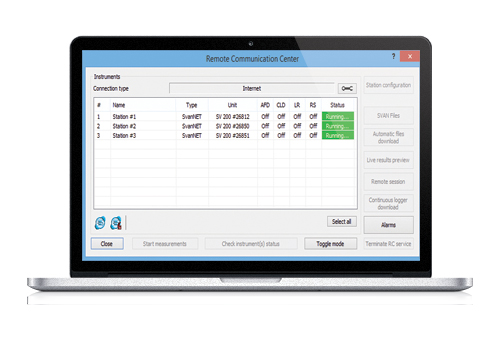 SVANPC++RC – License for remote control module USB/GSM
SvanPC++RC Remote Communication Module is a PC software extension to SvanPC++. The module serves as a remote communication tool with Svantek monitoring stations, using different interfaces: direct connection by RS232 or USB cable, GPRS modem, Internet, and LAN (Ethernet).
SvanPC++RC supports downloading measurement results from instruments to the PC and also manages instrument settings (the Setup Editor). Support of multiple instruments and advanced alarm functions (e.g., sending text messages) were also implemented in the RC module. Measurement data can be downloaded regularly or at a user's request. Advanced options for remote sessions that offer online data monitoring are also available.
SvanPC++RC is a predecessor of SvanNET Automatic Monitoring Services, which is a cloud solution (easier to use).