Noise Dosimeter
SV 104
The SV 104 is a noise dosimeter that meets the specifications of IEC 61252 and ANSI S1.25-1991 for measuring workplace noise levels and hearing protection by health and safety regulations. The instrument measures noise dose and noise levels in the large measurement range of 55 dB to 140 dB. Results are recorded into three independently configurable profiles, which means that the measurement can be performed per three different sets of settings simultaneously (such as exchange rate or time constants). The SV 104 noise dosimeter uses a patented MEMS microphone that is covered by a lifetime warranty. This ensures that the noise exposure measurements are as accurate as possible under the ISO 9612, OSHA, MSHA, and ACGIH guidelines.
What is a noise dosimeter?
A noise dosimeter (or dose meter) is a sound measuring device meeting IEC 61252:2017 (Europe) or ANSI/ASA S1.25-1991 (United States) performance specifications for personal sound exposure meters. Noise dosimeters are used for determinations of occupational noise exposure, by ISO 1999 and ISO 9612 in Europe and OSHA, MSHA, and ACGIH in the United States. By IEC 61252:2017, the noise dosimeter accuracy corresponds to those for a class 2 integrating averaging sound level meters as given in IEC 61672-1 in the frequency range from 20 Hz to 8 kHz

Personal Noise Dosimeters


MEMS microphone


OLED screen
Personal Noise Dosimeters
Features

How to use?
Wearable noise dosimeter
The primary use of a wearable noise dosimeter is to measure noise levels close to a person's head, for example, to determine their occupational noise exposure in compliance with ISO 1999 and ISO 9612 International Standards or OSHA, MSHA, and ACGIH guidelines. A wearable noise dosimeter is a small sound level meter that people wear. It is typically worn on the shoulder, collar, or other location close to the ear. This type of usage makes the noise exposure measurement an unattended one. For this purpose, the SV 104 has been equipped with multiple features for automatic event detection and noise source validation.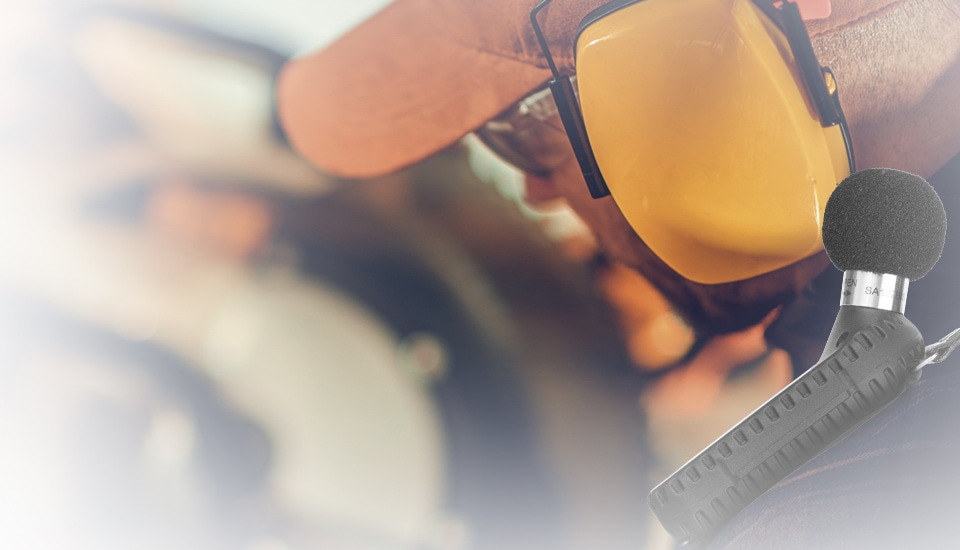 When do you use noise dosimeters?
What factors determine the need for noise dose measurement?
A noise dosimeter is used to measure the noise level of a worker when there is a risk of noise levels reaching or exceeding the noise exposure 8-hours threshold level of 85 dBA. Similarly, whenever a change may cause employees' noise exposure to increase, or when the current hearing protection workers are using may not meet safety requirements, personal noise exposure measurements must be used.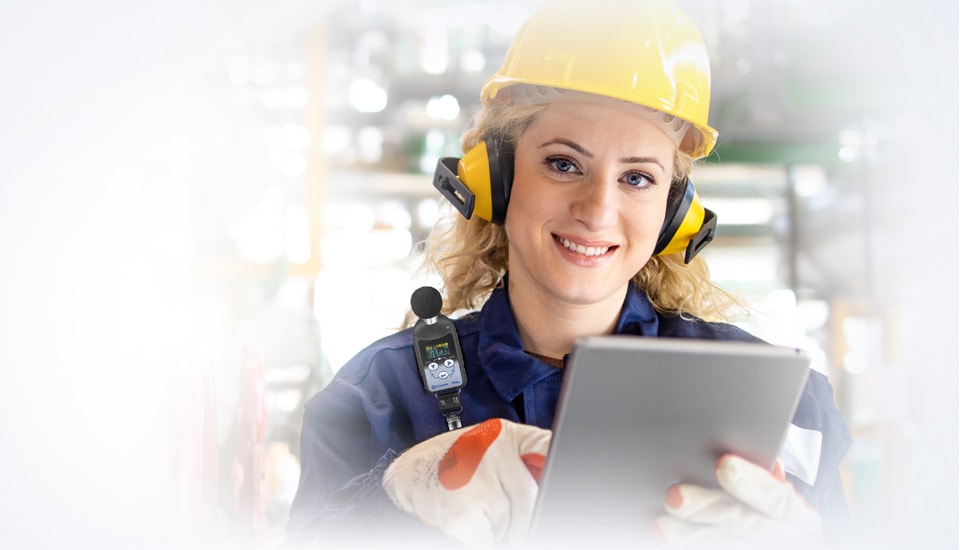 Calibration
Noise dosimeter calibration with an acoustic calibrator
For field calibration, the noise dosimeter provides a means for the user to check and adjust sensitivity at the calibration check frequency using a sound calibrator.
Once the microphone is inserted into the sound calibrator, the auto-calibration facility starts the calibration process automatically. Noise dosimeters should be calibrated periodically at accredited laboratories following procedures described in IEC 616252.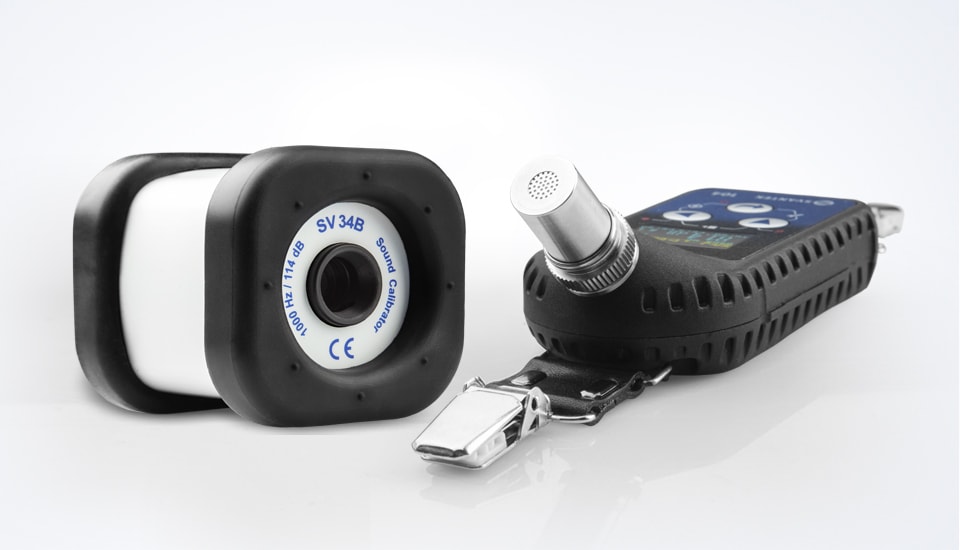 Noise Dosimeter vs Sound Level Meter
What is the difference between sound level meters and noise dosimeters?
The difference between a noise dosimeter and a sound level meter is that the noise dosimeter is worn on a worker's shoulder, while the sound level meter is handheld or used on a tripod. The specifications for both sound level meters and noise dosimeters usually correspond to those for class 2 sound level meters, as given in IEC 61672-1.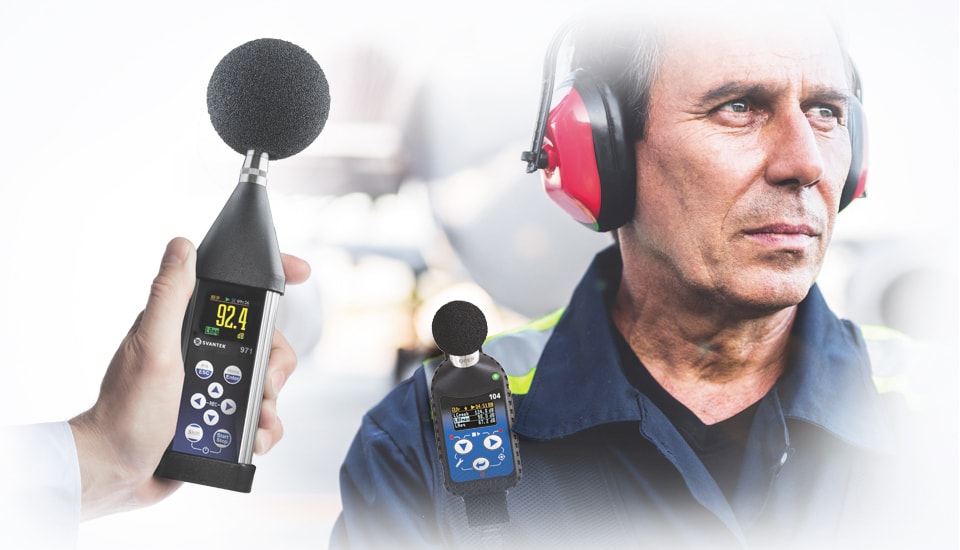 Accuracy
Noise dosimeter accuracy
The noise dosimeter accuracy corresponds to those for class 2 integrating sound level meters as given in IEC 61672-1 for an A-weighted sound pressure level range from 70 dB to 137 dB and a nominal frequency range from 20 Hz to 8 kHz. The built-in tri-axial accelerometer ensures reliability by recording any shocks or vibrations that may affect the sound level results. The time history is cleared of any undesirable noise levels, making them easy to eliminate from the dose calculation.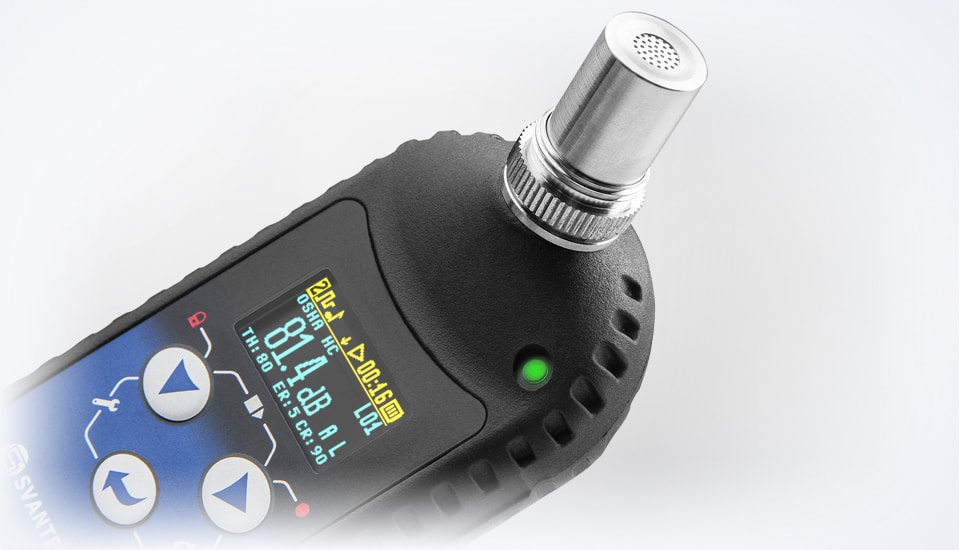 Noise Dose Calculation
The dedicated Supervisor pc software can help you calculate your noise exposure.
The SV 104 works with the Supervisor pc software package that helps you calculate how much noise you are exposed to. This follows international standards for doing this, such as ISO 9612, OSHA, MSHA, and ACGIH. You can use the data files from the SV 104 to figure out your noise exposure. In addition, the results from the dosimeter can be used for hearing protection selection.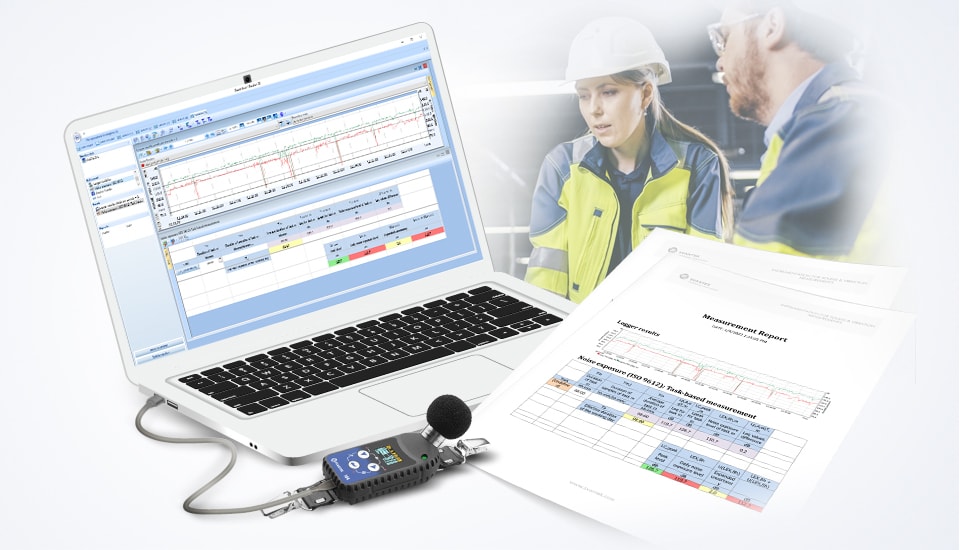 Occupational Noise Measurements
Applications

Occupational Noise
Noise dosimeters conforming to IEC 61252 and ANSI S1.25-1991
The SV 104 is a dosimeter that meets the standards set by IEC 61252 and ANSI S1.25-1991. These noise dosimeters are used to monitor occupational noise exposure, which ranges from 55 dB to 140 dB. To measure how much noise someone is exposed to, the SV 104 can create three different profiles, each measuring a different standard, with configurable settings such as criterion level or an exchange rate.
Read more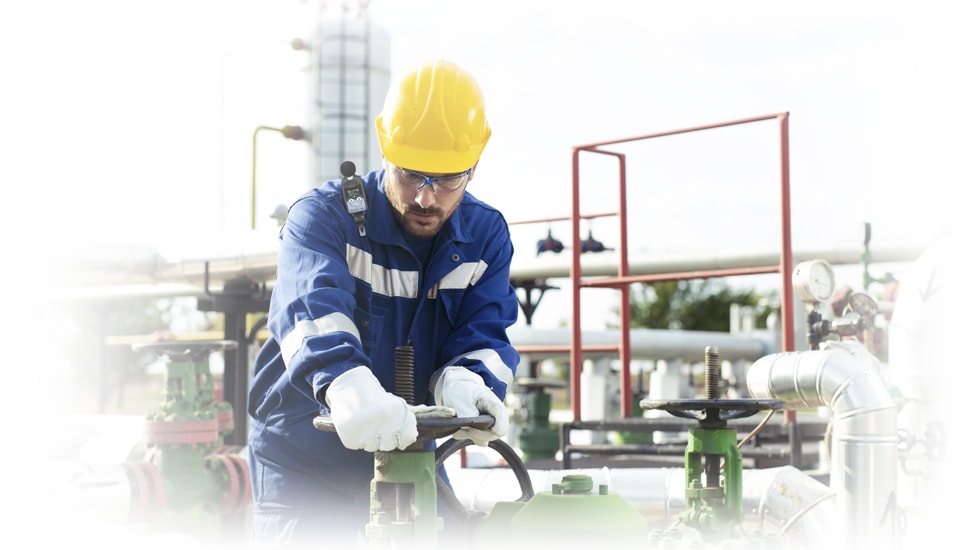 Personal noise dosimeters
Price or Noise Dosimeter Hire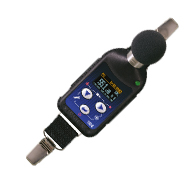 SV 104 – Noise Dosimeter
The SV 104 kit includes a shock-resistant MEMS microphone with a LIFETIME WARRANTY, windscreen, 8 GB memory and USB cable for communication with a PC. Each SV 104 has a factory calibration certificate and a 36-MONTH WARRANTY upon product registration. The standard kit also includes a license for PC software.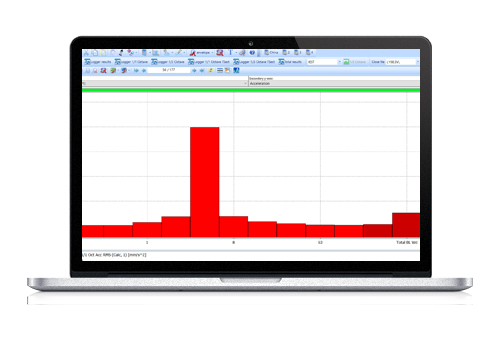 SF104_OCT - License of 1/1 octave analysis for SV 104

License of 1/1 octave analysis for SV 104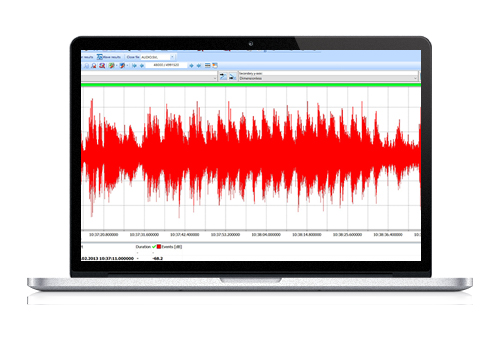 SF104_WAV - License of Audio events recording for SV 104

License of Audio events recording for SV 104
Noise dosimeter
Specification
SV 104 – Noise Dosimeter
Applications
| | |
| --- | --- |
| Sound measurements | |
| Occupational noise | |
Hardware Features
| | |
| --- | --- |
| Number of channels | 1 |
| Intrisic safety | |
| Self-vibration detection | |
| Auto-calibration | |
| Keyboard lock | |
| Remote communication | |
| Bluetooth | |
| Communication Interfaces | USB, infrared |
| LED indicator | |
| Display | |
| Keyboard | 3 push buttons |
| Memory | 8 GB |
| Battery type | Ni-MH rechargeable cells |
| Operating time | > 40 hours |
| Operating temperature range | -10 °C ÷ +50 °C |
| Humidity range | up to 95 % RH |
| Weight | 121 g |
| Size | 88 x 49.5 x 19.2 mm |
| Docking station required | |
Sound measurements features
| | |
| --- | --- |
| Standards | IEC 61252 ed1.1 (2002); ANSI S1.25-1991 (R2020) |
| Microphone type | ST 104C MEMS microphone |
| Linear operating range to IEC 61672 | 55 dBA RMS ÷ 140.1 dBA Peak |
| Total measurement range | 50 dBA RMS ÷ 140.1 dBA Peak |
| Frequency range | 20 Hz ÷ 10 kHz |
| Weighting filters | A, C and Z |
| Time constants | Slow, Fast, Impulse |
| Exchange rates | 2, 3, 4, 5, 6 |
| Criterion levels | selectable |
| Profiles per channel | 3 with independent filters (x) and time constants (y) |
| Min logging step | 1s logger step |
| Statistics in octaves or third octaves | |
| Audio recording | option |
| Voice coments | |
| 1/1 octave | option |