Class 1 Sound & Vibration Analyser
SVAN 979
The SVAN 979 is a Class 1 type-approved professional sound level meter, meaning it meets the stringent criteria set out in the UK and international standards, including BS EN 61672-1, for precision and reliability in acoustic measurements. In the context of the UK's regulatory framework, this level of certification ensures the device's suitability for a wide range of official and professional applications, such as environmental noise assessments, industrial noise control, and building acoustics. Its wide measurement range, starting from as low as 12 dBA, and multifunctional capabilities, including frequency analysis and audio recording, make it a highly versatile and reliable tool for compliance with UK noise regulations.
Sound Level Meter UK
In the UK, professional sound level meters are commonly used in environmental noise assessments required for planning applications to ensure compliance with local authority guidelines. This often involves measuring ambient noise levels to determine the impact of a new development or industrial site on surrounding residential areas, based on BS4142 or BS5228 standards.
Another significant application is in the workplace, where sound level meters are used to assess occupational noise exposure. Here, the aim is to protect workers' hearing from excessive noise, in compliance with the Control of Noise at Work Regulations 2005.
In construction environments, noise and vibration assessments, often based on BS5228, are conducted to monitor and control construction-related noise and ensure minimal disturbance to nearby residents.
Sound level meters are also employed for building acoustic measurements, where they are used to assess sound insulation between spaces, usually in compliance with BS8233 or similar guidelines. These assessments often include recommendations for glazing and ventilation to meet internal noise standards.

Class 1

Type Approved


Frequency Analyser


Mobile App
dB Sound Level Meter
Features

Class 1 Sound Level Meter
BS EN 61672 Class 1 Accuracy
The SVAN979 Sound Level Meter's Class 1 designation under BS EN 61672 confirms its high level of accuracy and reliability for measuring sound levels across the range of human hearing. This international standard has strict rules about how well the meter should work with sound. It also requires independent type approval testing and regular verification tests in line with BS EN 61672-3. This assures users that the device meets or exceeds the stringent criteria laid out in both national and international guidelines, making it highly suitable for tasks where accuracy and compliance are essential.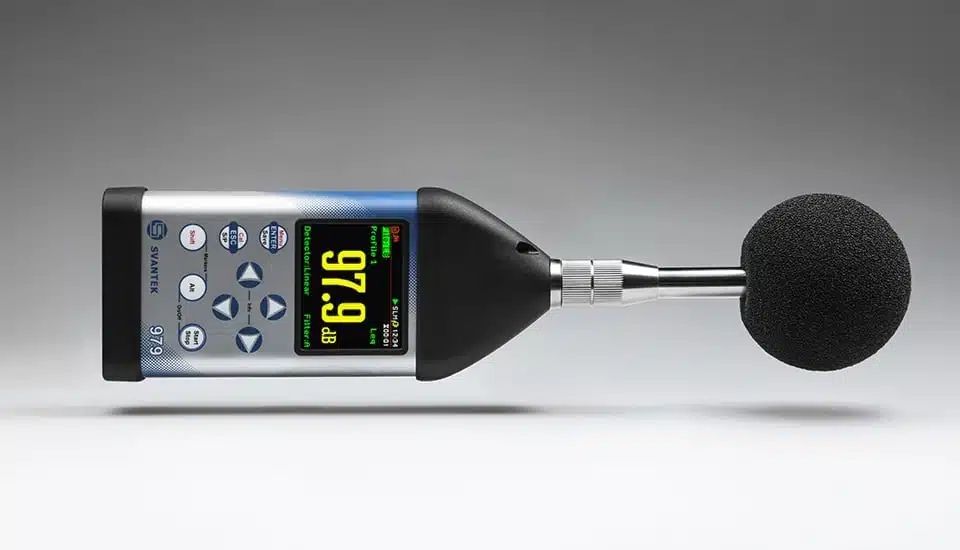 Audio spectrum analyser
frequency analysis, audio waveform analyzer and fast data logging
You can use the SVAN979 Sound Level Meter as an audio spectrum analyzer. It has many features, including Fast Fourier Transform (FFT) and real-time octave band analysis in 1/1, 1/3, and optionally 1/6 and 1/12 bands. The device also enables time-history logging at rapid 2ms intervals. It also allows for WAV recording at a 48 kHz sampling rate, providing data that can be post-processed using SvanPC++ software. This makes the device a robust tool for detailed frequency analysis across various applications.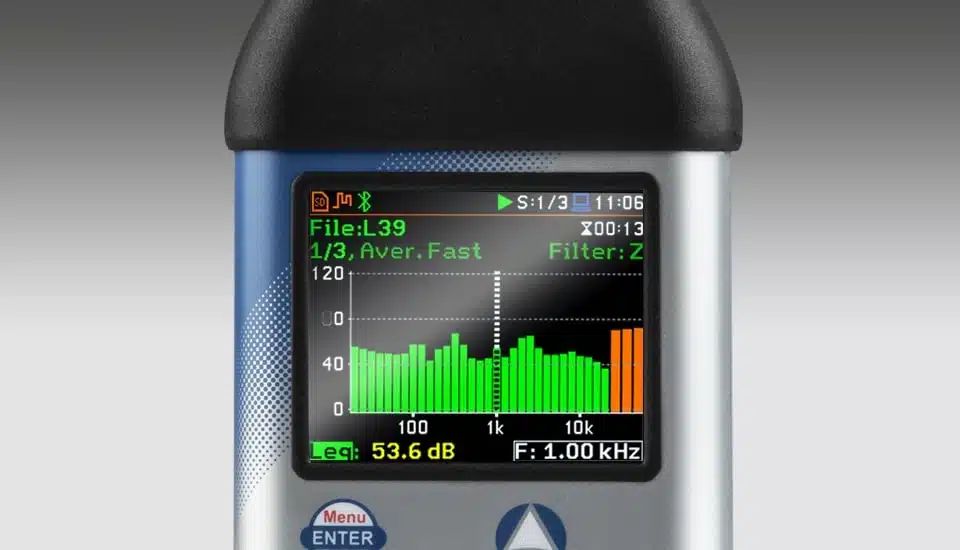 Professional sound level meter
extremely robust and resistant housing, reinforced protection
The Professional Sound Level Meter is built with an extremely robust and resistant aluminum housing that not only provides a secure grip but also offers reinforced protection against electromagnetic interference. The device's preamplifier is strengthened with a metal collar, adding an extra layer of robustness and ensuring the integrity of the measurement path. The hardware employs a high-quality omnidirectional GRAS 40 AE microphone capable of measuring sound frequencies as low as 3.15 Hz. Moreover, the SV17 preamplifier allows compatibility with microphones that require a 200V polarization voltage. This makes it an ideal choice for professionals who require a highly durable and precise instrument for their acoustic measurement needs.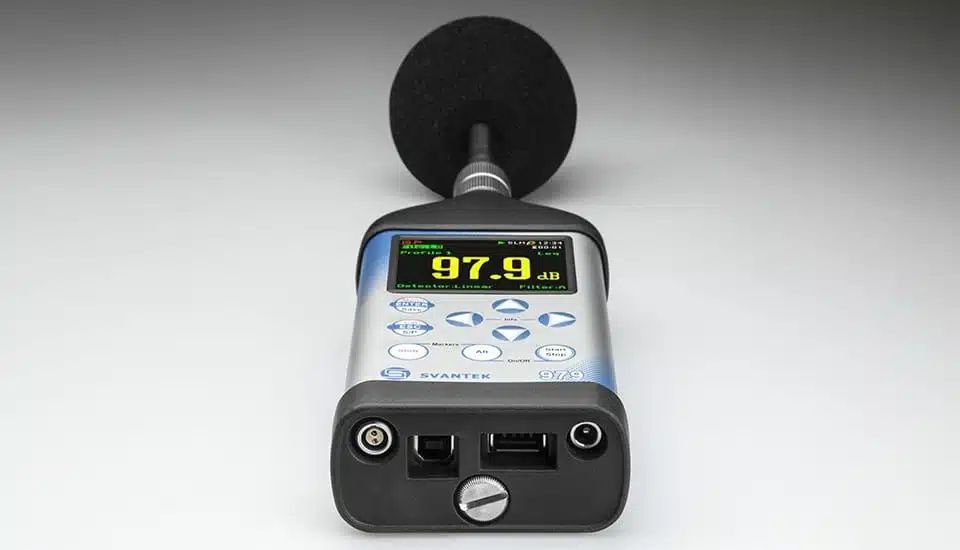 Tonality
noise tones analysis
Tonality determines annoying tones considered as a negative attribute of sound and calculates penalty value in dB which should be added to the noise level to indicate its annoyance. In accordance with ISO 1996-2 tonal analysis is obligatory if noise characteristics includes audible tones.

Loudness meter
loudness level of sounds
Loudness provides a more accurate representation of how humans perceive sound, incorporating the sensitivity of human hearing across different frequencies. According to the Zwicker method outlined in ISO 532B, loudness measurement often proves to be more reliable than A-weighted levels, especially for assessing low-level broadband sounds in a manner that aligns with subjective human perception. This makes loudness a useful metric in acoustic analyses where understanding human auditory response is crucial.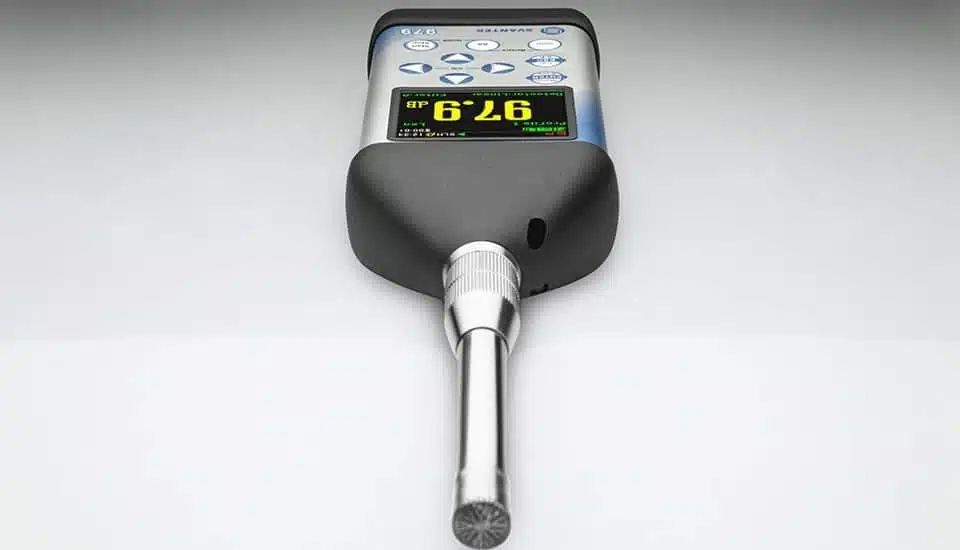 Sound pressure meter
Applications

Comprehensive Acoustic Monitoring
UK Sound Measurement Standards
Adapted for use in the UK's regulated sectors, the SVAN 979 offers an all-encompassing solution for acoustic measurements. The device's design allows for hand-held operation or easy mounting on a tripod, accommodating various monitoring needs. In compliance with UK workplace and environmental noise regulations, the instrument can also be housed in a dedicated waterproof case for long-term monitoring applications. For building acoustic assessments, the SVAN 979 features smartphone app integration for streamlined operation. With a broad frequency range starting from 3.5 Hz and a low internal noise level of 12 dBA, this device is aptly suited for specialized acoustic engineering tasks in both occupational and environmental contexts.
Read more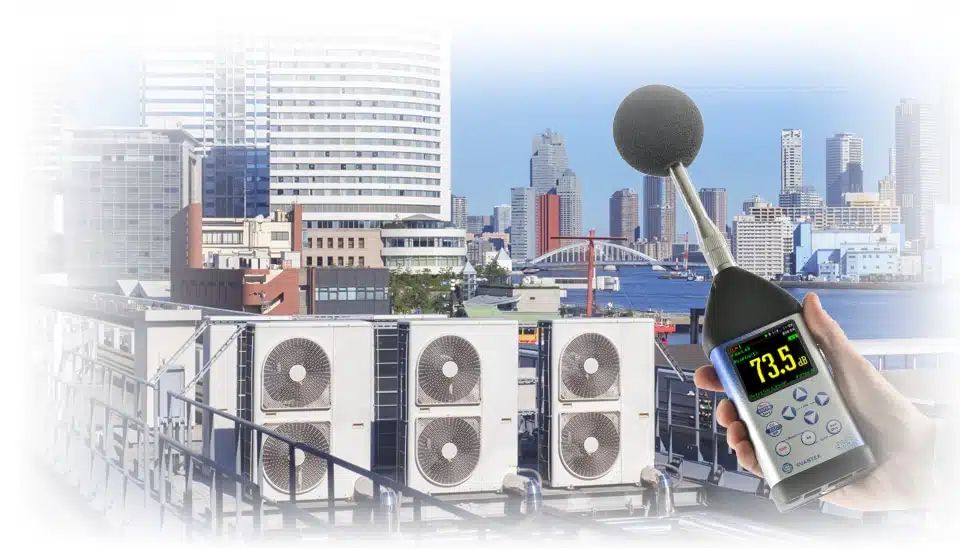 Building acoustics
use the smartphone app
The SVAN 979 excels in building acoustic measurements, offering high accuracy and fast millisecond spectra logging. Predefined setups facilitate quick, multiple-point assessments. The device and sound source can also be remotely controlled via a dedicated smartphone app, making it a versatile tool for efficient acoustic evaluations.
Read more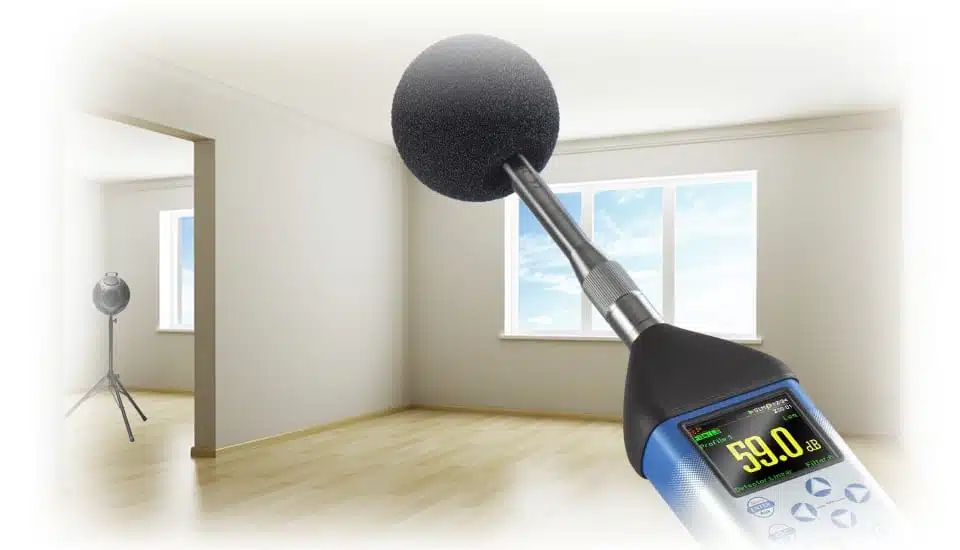 Building Acoustic App
See how the SVAN 979 works in building acoustics measurements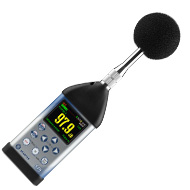 Professional sound level meter
The kit consists of SVAN   979 Class 1 sound & vibration level meter with a detachable preamplifier SV 17 and high quality omni-directional GRAS 40AE microphone, compliant to IEC 61094-4. The list of accessories includes: SA 143 carrying case, SA 22 windscreen, 8 GB microSD card, four rechargeable AA batteries, USB cable, and pendrive with user manual. Each SVAN 979 has its factory calibration certificate and 36 months warranty card upon product registration.
Suggested options and accessories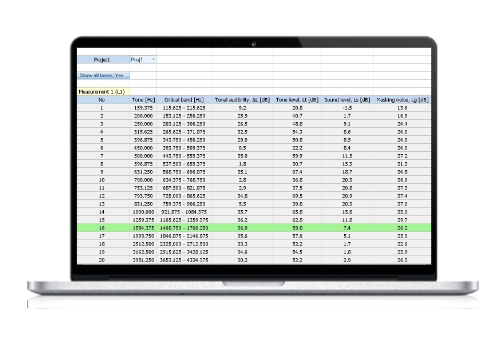 SF 979_06 - License of Tonality analysis for SVAN 979

License of Tonality analysis for SVAN 979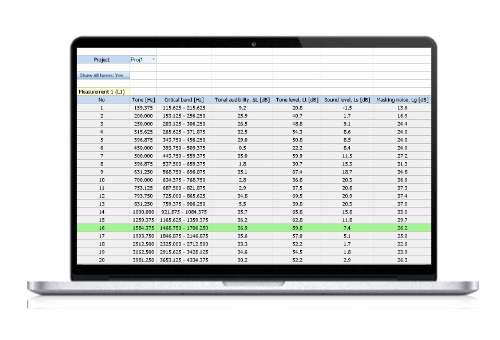 SF 979_07 - License for loudness analysis for SVAN 979

License for loudness analysis for SVAN 979
Class 1 Sound Meter
Specification
Professional sound level meter
Applications
| | |
| --- | --- |
| Sound measurements | |
| Environmental noise | |
| Occupational noise | |
| Building acoustics | |
| Machine vibration | |
Hardware Features
| | |
| --- | --- |
| Number of channels | 1 |
| Auto-calibration | |
| Remote communication | |
| Bluetooth | |
| Communication Interfaces | USB, I/O, RS232, Bluetooth |
| Display | |
| Keyboard | 9 keys |
| Memory | uSD 16 GB |
| Battery type | AA |
| Operating time | 8-12 hours |
| Operating temperature range | -10 °C to 50 °C |
| Humidity range | up to 90 % RH, non-condensed |
| Weight | 600 grams |
| Size | 310 x 79 x 39 mm |
Sound measurements features
| | |
| --- | --- |
| Standards | Class 1: IEC 61672-1:2013, Class 1: IEC 61260-1:2014 |
| Type approvals | Yes |
| Microphone type | G.R.A.S. 40AE |
| Preamplifier type | SV 17 |
| Linear operating range to IEC 61672 | 22 dBA Leq÷140 dBA Peak |
| Total measurement range | 12 dBA Leq÷140 dBA Peak |
| Internal noise | <12 dBA Leq |
| Frequency range | 3.15 Hz ÷ 20 kHz |
| Weighting filters | A, B, C, Z, G |
| Time constants | Slow, Fast, Impulse |
| Profiles per channel | 3 |
| Min logging step | 2 ms |
| Statistics | Ln (L1-L99) |
| Statistics in octaves or third octaves | |
| Audio recording | |
| 1/1 octave | |
| 1/3 octave | |
| 1/6 octave | option |
| 1/12 octave | option |
| FFT | |
| RT60 | |
| STIPA | option |
| Signal generator | |
| Tonality | option |
| RPM | option |
| User programmable filters | option |
Vibration measurement features
| | |
| --- | --- |
| Standards | ISO20816 |
| Number of channels | 1 |
| Sensor type | IEPE |
| Input type | IEPE |
| 1/1 octave | |
| 1/3 octave | |
| WAV recording | |
| FFT | |
| RPM | option |