Hand Arm and Whole Body Vibration Meter
SV 106
The SV 106 Hand Arm and Whole Body Vibration Meter is designed to assess the impact of mechanical vibrations transmitted from machinery on the human body, known as "human vibrations." This type of vibration is prevalent in industries such as construction, transportation, agriculture, and the military, as well as in any work environment where hand tools or heavy vehicles are utilized. The SV-106 accurately measures human vibrations in accordance with British Standards ISO 2631 and ISO 5349.
What is a Hand Arm and Whole Body Vibration Meter?
The hand-arm and whole-body vibration meter, the SV 106, is developed to meet the strict requirements of the BS EN ISO 8041 standard. This standard sets guidelines for the performance specifications of vibration measurement devices, including the measurement range, accuracy, frequency response, linearity, and temperature operating range. With its superior parameters, the SV 106 has become a trusted device for laboratories and professionals across the United Kingdom for measuring human vibrations.

Vibration Meter


Hand-Arm


Whole-Body
Vibration Meter
Catalogue
How are vibrations measured?
The SV 106 meter is equipped with six channels of input, enabling simultaneous measurement of both whole-body and hand-arm vibrations. This means that two tri-axial vibration accelerometers can be used at the same time to accurately measure vibrations. The sensors are put close to where the operator touches the vibrating surface of industrial machinery. This makes it possible to get accurate measurements.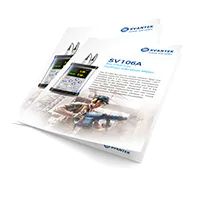 Hand Arm and Whole Body Vibration Meter
Features

Hand Arm Vibration Testing
Calculation of the daily exposure A(8)
The hand-arm vibration tests are based on the calculation of a daily exposure value, called A(8), which is normalized to an eight-hour reference period. According to BS ISO 5349-1, A(8) is found by taking the square root of the sum of the squares (RMS) of the frequency-weighted acceleration values on the orthogonal axes X, Y, and Z.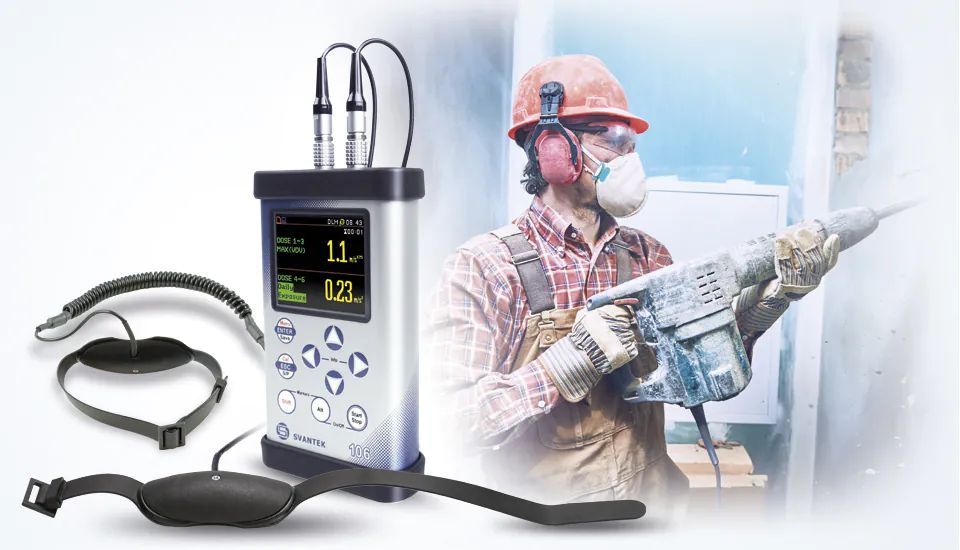 Vibration Dose Value VDV
Calculating VDV for whole-body vibration
The vibration dose value (VDV) is found by taking the frequency-weighted instantaneous acceleration of the vibration and raising it to the fourth power. The daily exposure to whole-body vibration, known as A(8), is determined as either the highest root mean square (RMS) value or the highest vibration dose value (VDV).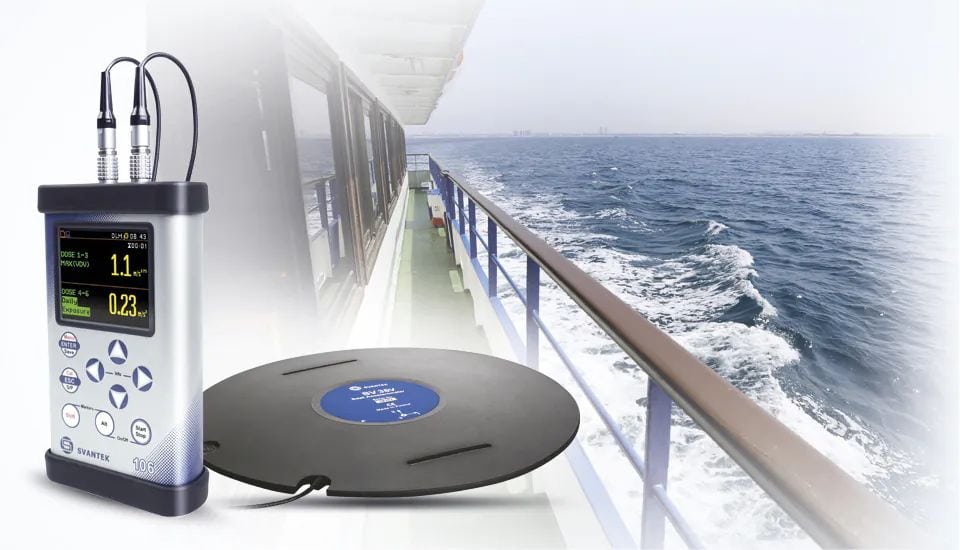 Vibration Accelerometers
MEMS and IEPE Accelerometers Types
Hand-arm and whole-body vibration meters can utilize two types of accelerometers, IEPE and MEMS, each with their own unique construction and operation. IEPE accelerometers are made with piezoelectric materials, while MEMS accelerometers are made with semiconductor fabrication techniques. This makes MEMS accelerometers more resistant to shocks and eliminates the DC shift effect. MEMS accelerometers also use less power and have a flat frequency response all the way down to DC.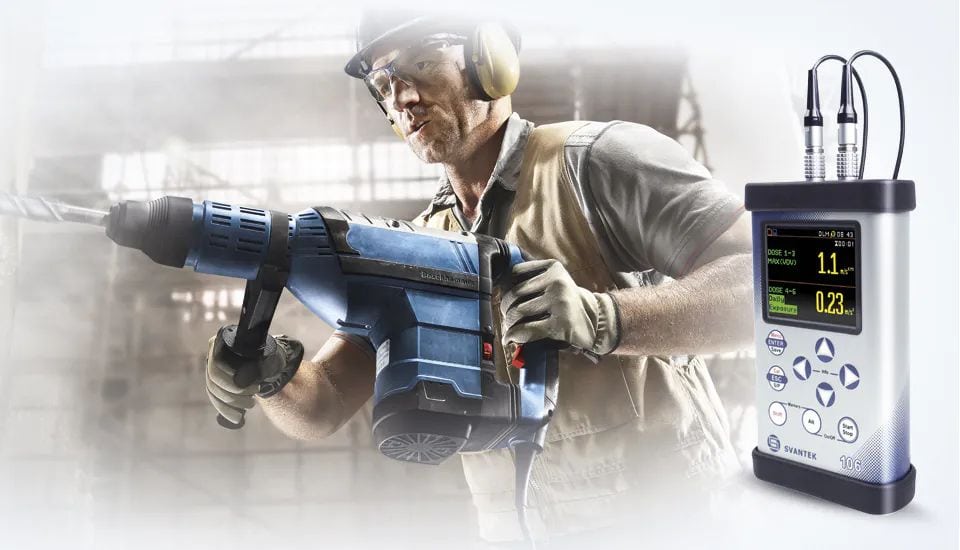 Frequency Analysis
How do you measure human vibration frequencies?
According to BS ISO 5349 and BS ISO 2631, unweighted frequency spectra are used to measure the vibrational frequencies of humans in order to find out where the vibrations are coming from. The data logger of the Hand Arm and Whole Body Vibration Meter is capable of storing information about 1/3 octaves, with configurable logging intervals for convenience.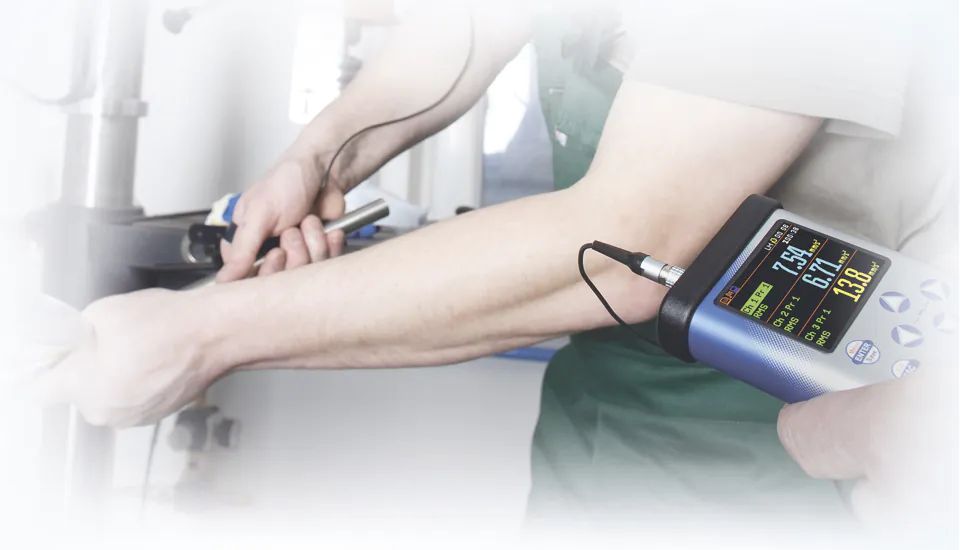 Measurement Methods
Applications

HAVS
Hand arm vibration syndrome
Hand-Arm Vibration Syndrome (HAVS) is a well-known occupational disease in the UK that is caused by exposure to hand-arm vibrations. It manifests as a vascular disorder characterized by reduced blood circulation in the fingers. To stop HAVS from happening, it is very important to measure hand-arm vibration levels correctly.
Learn more about HAVS and hand-arm vibration syndrome
Read more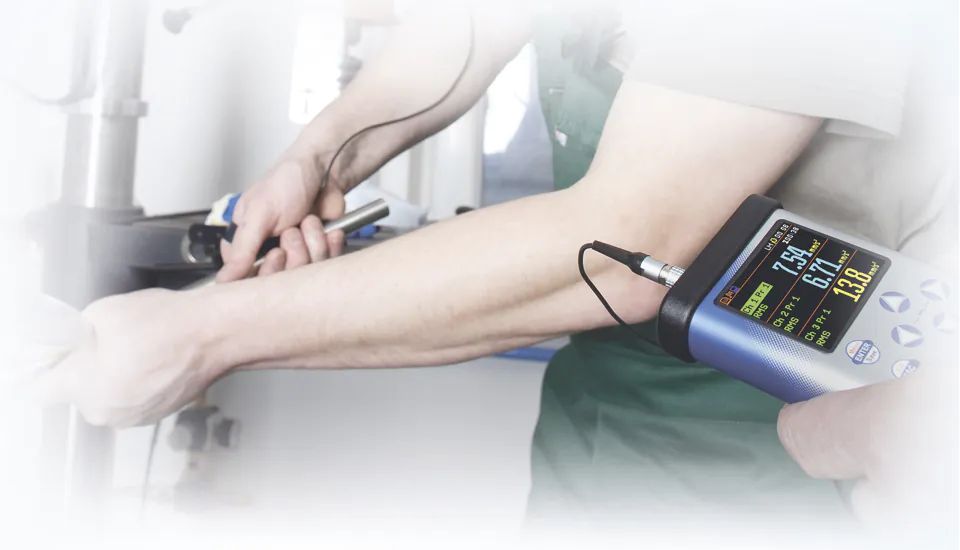 Whole-Body Vibration
What causes whole body vibration?
According to BS ISO 2631, whole-body vibrations are the vibrations that come from vehicles, machinery, and industrial activities. These vibrations have a big effect on people's comfort, activities, and health. The measurement of whole-body vibrations is performed using sensors that are flat and in the shape of a seat pad. For accurate measurements, these sensors are placed right on the seat cushion, on the floor, or on the back of the seat. 
Read more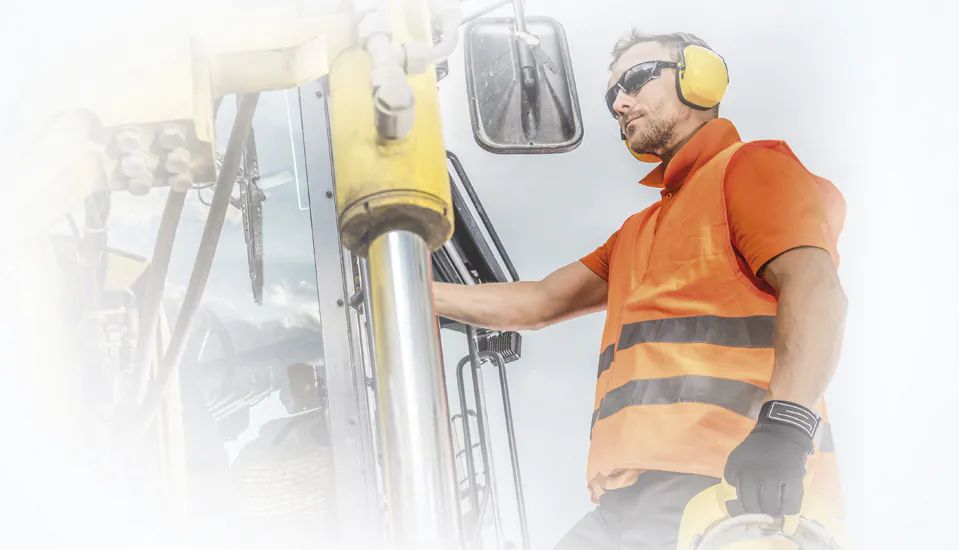 What is a Human Vibration?
The world's reference human vibration meter
Looking for a human vibration meter and analyzer?
How to calibrate your vibration meter?
Hand Arm and Whole Body Vibration Meter SV 106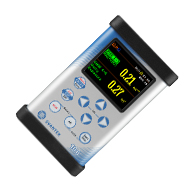 The SV 106D kit comes with a 32 GB microSD card and a USB cable for connecting to PC software, which is included. The kit also includes a set of 4 AA batteries. Each SV 106D has a factory calibration certificate and a 36-month warranty when registered.
See all accessories
Open list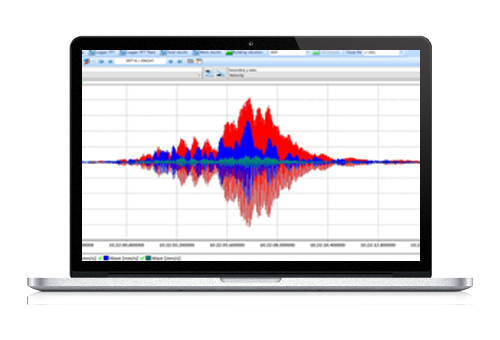 SF106_LIC_15 - License for time domain signal recording for SV106

License for time domain signal recording for SV106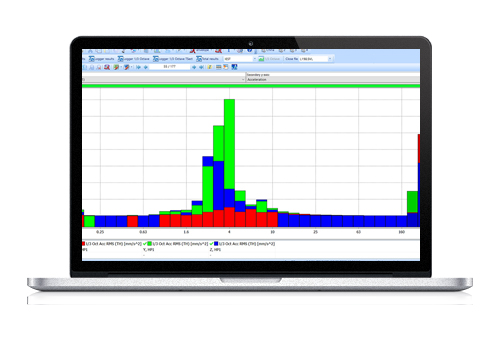 SF106_LIC_3 - License of 1/1 & 1/3 octave analysis for SV 106

License of 1/1 & 1/3 octave analysis for SV 106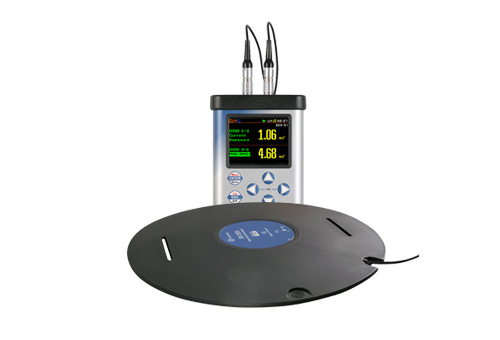 SV_CA_VM_WB - Whole-Body Vibration Meter calibration

Whole-Body Vibration Meter calibration
Performance
Specification
Hand Arm and Whole Body Vibration Meter SV 106
Applications
| | |
| --- | --- |
| Hand-arm vibration | |
| Whole-body vibration | |
Hardware Features
| | |
| --- | --- |
| Number of channels | 6 |
| Communication Interfaces | USB-C, I/O |
| Display | |
| Keyboard | 9 buttons |
| Memory | 32 GB |
| Battery type | AA |
| Operating time | 12-16h |
| Operating temperature range | -10 °C to 50 °C |
| Humidity range | up to 90 % RH, non-condensed |
| Weight | 390 grams |
| Size | 140 x 83 x 33mm |
Vibration measurement features
| | |
| --- | --- |
| Standards | ISO 8041, ISO 2631, ISO 5349, UNI ISO 2631-1:2017, UNI ISO 2631-2:2018, UNI EN ISO 5349-1:2004, UNI EN ISO 5349-2:2015 |
| Number of channels | 6 |
| Sensor type | IEPE / MEMS |
| Input type | 2 x LEMO 5-pin |
| Measurement range | Transducer dependent |
| Frequency range | 0.1 - 2000 Hz |
| Profiles per channel | 2 acceleration velocity |
| Weighting filters | Wd, Wk, Wm, Wb, Wc, Wj, Wg, Wf, Wh, Wp, HP, KB, Vel3 |
| Time constants | Linear |
| 1/1 octave | option |
| 1/3 octave | option |
| WAV recording | option |
Hand Arm and Whole Body Vibration Meter
Downloads