Wireless Vibration Monitor
SV 803
The SV 803 is a wireless vibration monitor from Svantek designed for use in the UK to meet British Standards for building and ground vibrations. It uses geophones as sensors for high sensitivity and energy efficiency, with a battery life of up to 6 months and the ability to sustain ongoing operation when connected to a solar panel.
Class 1 wireless vibration monitoring system
The SV 803 vibration monitor is designed to meet the high standards of Class 1 as outlined in British Standard BS 7385-1 (ISO 4866) and DIN 45669-1, making it suitable for building and ground vibration monitoring in accordance with DIN 4150-3 and BS 7385-2. This device is ideal for both engineering analysis and field monitoring, as it provides reliable and accurate measurements.

Wireless vibration monitor


Wireless vibration sensor geophone


Online vibration monitoring
Wireless Vibration Monitor
Catalogue
Online vibration monitoring
The SV 803 wireless vibration monitor catalog is now available for download, providing detailed technical information about this high-tech device. Designed for monitoring buildings and ground vibrations, the SV 803's wireless capabilities make it easy to set up and collect data. Using fast Fourier transform (FFT) analysis, it can measure and analyze a wide range of vibration parameters, such as peak particle velocity (PPV) and dominant frequency.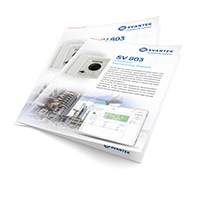 Wireless Vibration Monitoring
System Features

AMS Wireless Vibration Monitor
Automatic Monitoring Services in the UK
The UK's Automatic Monitoring Services (AMS) offered by the SvanNET platform for monitoring noise, vibration, and dust use the new SV 803 vibration monitor, which uses a 4G modem to transmit data wirelessly from the sensor to the SvanNET platform. This platform provides vibration data in the form of reports that are ready to print and meet international building and ground vibration standards like ISO or DIN. Additionally, the monitoring system is set up with alarms that can be triggered from both the SvanNET platform and the SV 803 vibration monitor for maximum reliability.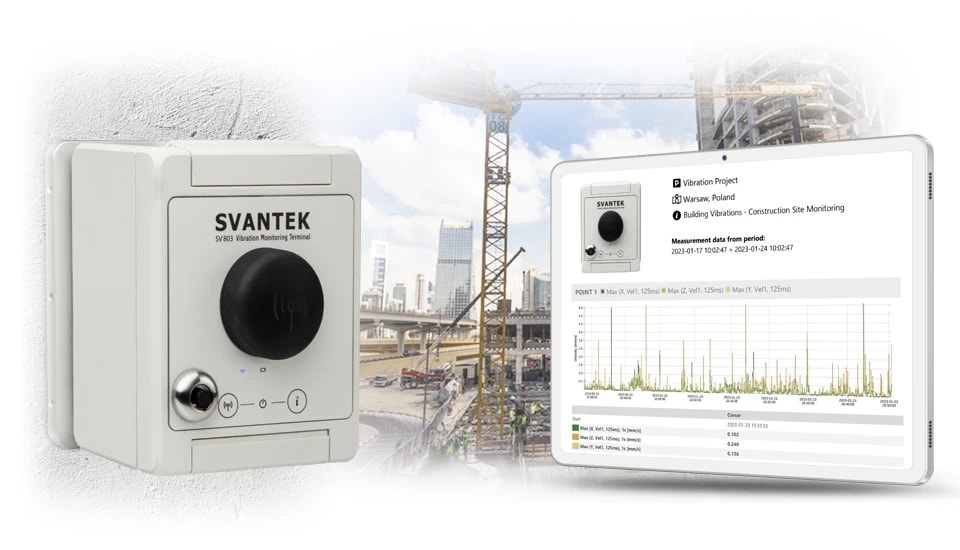 Vibration Analysis Tool
Building and Ground Vibration Events by BS 7385-2
The SV 803 wireless vibration monitor, with its advanced firmware, can measure vibration velocity in accordance with the British Standard BS 7385-2 using the Peak Particle Velocity and Dominant Frequency method, which is based on fast Fourier transform (FFT) analysis. The device is able to analyze vibration events independently and send SMS and email alerts directly from the onboard modem in case of an alarm, minimizing the risk of transmission delays or missed alarms. Because of this, it is a great way to monitor vibrations in real time in a variety of industrial settings.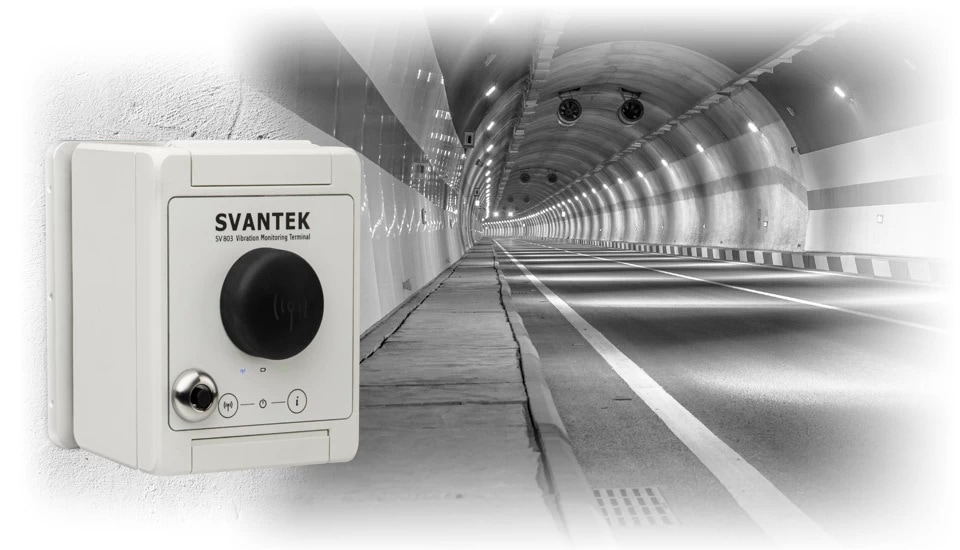 Wireless Vibration Sensors Integrations
Integrate Vibration, Noise, Weather and Dust Measurements
To meet the requirements of a construction site monitoring program in the UK, the SV 803 vibration monitor can be paired with the SV 307A dust and weather monitoring station and a wireless sound monitor, which can all be easily connected to a single monitoring network called SvanNET. This allows for efficient and thorough monitoring of large areas such as transportation and construction sites. SvanNET allows for the combination of data from various sensors, including those measuring noise, vibration, dust, and weather, into a single, user-friendly software platform, making it easy to understand and navigate. This all-in-one monitoring solution is highly compatible and flexible, making it a valuable addition to any organization's monitoring tools.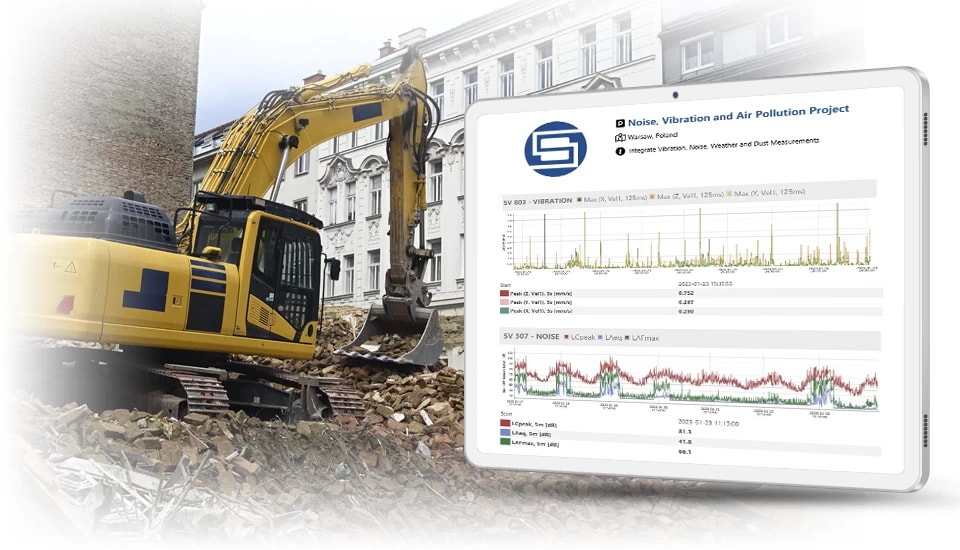 Mobile Application for Remote Connection
Bluetooth Connectivity for Remote Monitoring and Troubleshooting
The SV 803 wireless vibration monitor features Bluetooth connectivity, allowing for easy adjustments to device settings and real-time monitoring via a mobile app. This allows for the ability to troubleshoot issues remotely, even in remote locations. The mobile app can connect to both the SvanNET and the vibration monitor through Bluetooth, enabling remote support. This feature makes it an ideal solution for organizations that need to monitor vibration from a distance.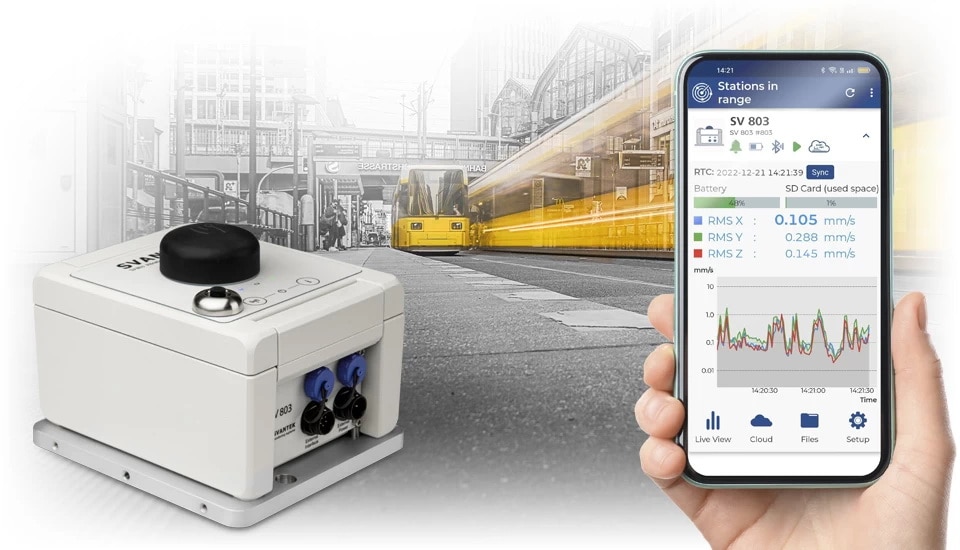 Remote Vibration Monitoring
Applications

Building and Ground Vibrations
Wireless Vibration Monitoring Equipment
The SV 803 wireless vibration monitor is a very useful tool for industries like construction, mining, tunneling, and transportation where vibration levels need to be constantly checked. The device has a GPS modem built in for accurate time synchronization and location tracking. This makes it possible to access the device's data and settings from a distance. The fully autonomous operation, automatic initiation of additional frequency analysis, and ease of use of the wireless vibration monitor make it a valuable asset for any organization's monitoring needs.
Read more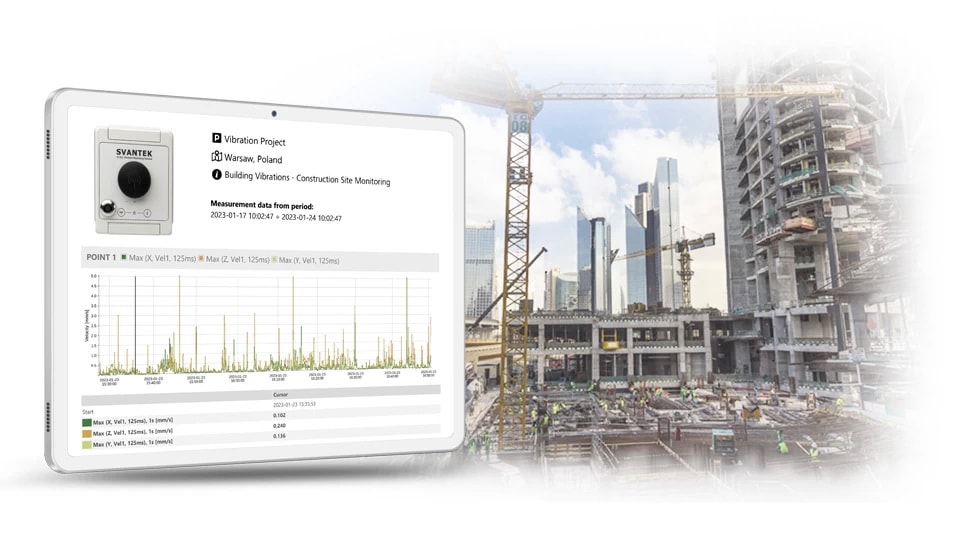 Wireless vibration monitor
Wireless Vibration Monitor SV 803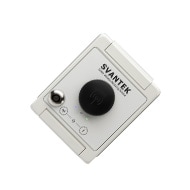 The vibration monitoring station is a comprehensive solution for monitoring vibrations in various environments. It is equipped with a built-in 4G modem and Bluetooth connectivity for easy data transfer. The package includes a number of essential components to ensure accurate and efficient monitoring. The SB 803 exchangeable battery pack provides long-lasting power, while the SB 83 battery charger ensures that the battery pack is always ready for use. The SA 800 leveling mounting base ensures that the monitoring station is stable and level, while the SC 816 USB-A cable facilitates data transfer. The ST 801 vertical geophone and the two ST 802 horizontal geophones are designed to detect vibrations in different directions. The SA 82 torque screwdriver is included for easy installation, and the SA 83 32 GB memory card provides ample storage for data logging.
See all accessories
Open list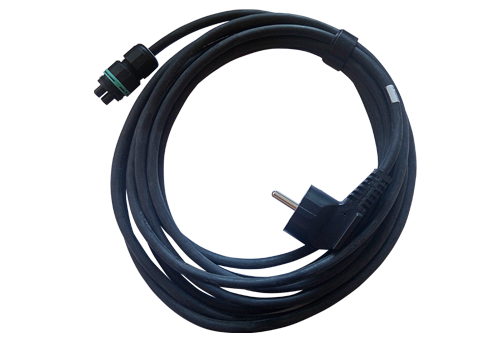 SC 270/5 - Mains cable for SB 274 power suply

Mains cable for SB 274 - EU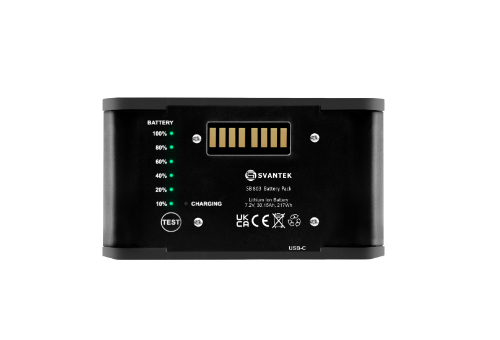 SB 803 - Exchangeable battery pack

Exchangeable battery pack for SV 803 station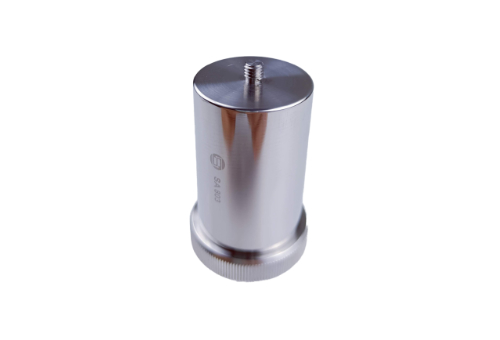 SA 803 - Calibration adapter for geophones

Calibration adapter for geophones
SV 803 Vibration Monitor
Specification
Wireless Vibration Monitor SV 803
Applications
| | |
| --- | --- |
| Building/ground vibration | |
Hardware Features
| | |
| --- | --- |
| Number of channels | 3 |
| Self-vibration detection | |
| Auto-calibration | |
| Remote system check | |
| Remote communication | |
| Bluetooth | |
| GPS module | |
| Communication Interfaces | 4G, Bluetooth, 2xWEIPU |
| LED indicator | |
| Display | |
| Keyboard | 3 pushing buttons |
| Memory | 32 GB |
| Battery type | Li-Ion battery |
| Operating time | UNLIMITED with SB 803 battery pack and solar panel in power saving mode |
| Operating temperature range | -20 °C ÷ +50 °C |
| Weight | 3,5 kg including battery and mounting platform |
| Size | 163 x 128 x 115 mm |
| IP rate | IP67 |
Vibration measurement features
| | |
| --- | --- |
| Standards | DIN 45699-1:2020-06; ISO 4866:2010, Class 1; IEC 61260:2014, Class 1 |
| Number of channels | 3 |
| Sensor type | Tri-axial geophone |
| Measurement range | 3 um/s RMS ÷ 100 mm/s RMS (141 mm/s Peak) |
| Frequency range | 0,8 Hz ÷ 400 Hz (-3 dB) |
| Profiles per channel | 3 |
| Weighting filters | DIN 80, DIN 315, VEL1, KB |
| Time constants | Fast 125 ms in accordance to DIN 4150-2 |
| Min logging step | 1s |
| 1/1 octave | |
| 1/3 octave | |
| WAV recording | |
| FFT | |
Wireless Vibration Monitor
Downloads